Do you want to speak a foreign language fluently, but often find yourself at a loss for words?
Learning vocabulary is one of the key elements in learning a new language. Very often, even if we don't yet know the grammar of a foreign language well, we can use basic vocabulary to communicate. Therefore, it is worth choosing the most effective method to learn new words quickly and without any problems.
Are you tired of learning vocabulary from a plain list? Do you want to be able to embed each new word in the context of a sentence and learn its various meanings? Do you care to learn vocabulary at progressive levels of proficiency? The answer to your needs will be a course from our PowerWords! series.
Read about what distinguishes PowerWords! courses and how to use them to make learning enjoyable and effective.
What will you find in the PowerWords course?
With the PowerWords! course, you learn vocabulary in a specially developed sequence, from A1 to C2 level. You start with the most commonly used, basic words and gradually move on to the rarer ones, which allow you to fluently and freely discuss any topic.
Each word and expression in the course is precisely described. You get to know the definitions (often more than one), parts of speech, synonyms, and sentence examples. Thanks to this, you can perfectly understand a given word and use it correctly in everyday communication.
What else sets our courses apart? Just as you are honing your language skills, we are constantly working on our courses to deliver ever better content for our Users.
As part of the recent changes, we have prepared, among other things, corrections in the translations of entries and examples in Polish and English. We have moved some less popular meanings of ambiguous words to a later position in the courses. And last but not least we have separated out grammar and expressions categories, which we moved to the end of the courses.
What languages can you learn?
In our offer, you will find several languages, among which are both very popular and less well-known ones, such as:
All languages available in the PowerWords! series can be found in our course catalogue.
How to learn with this PowerWords! course:
At the beginning of each page, you'll see a word, its definition in a foreign language and the instruction "Give the word that matches the definition". It means that you have to guess the foreign word or a phrase on the basis of its definition.
Every word includes up to 3 senses to get you acquainted with its usage.
Most headwords contain examples of use in sentences and phrases. Point the cursor to it, or click on the arrow placed next to it to see its translation. Machine translations are marked with an asterisk.
Click on CHECK to see the right answer and compare it with yours.
Once you click on CHECK, three options will appear. Click on one of them to mark how well you remembered a certain word or phrase. Our algorithm will use that to create the best possible repetition schedule for you.
Once you have finished learning the new words, move on to the DRILLS section to go over the cards that have been difficult for you on that day.
The speech recognition function (STT) is available on mobile devices and in browsers that make this option available. To use it, tap on the microphone icon located at the bottom of the page.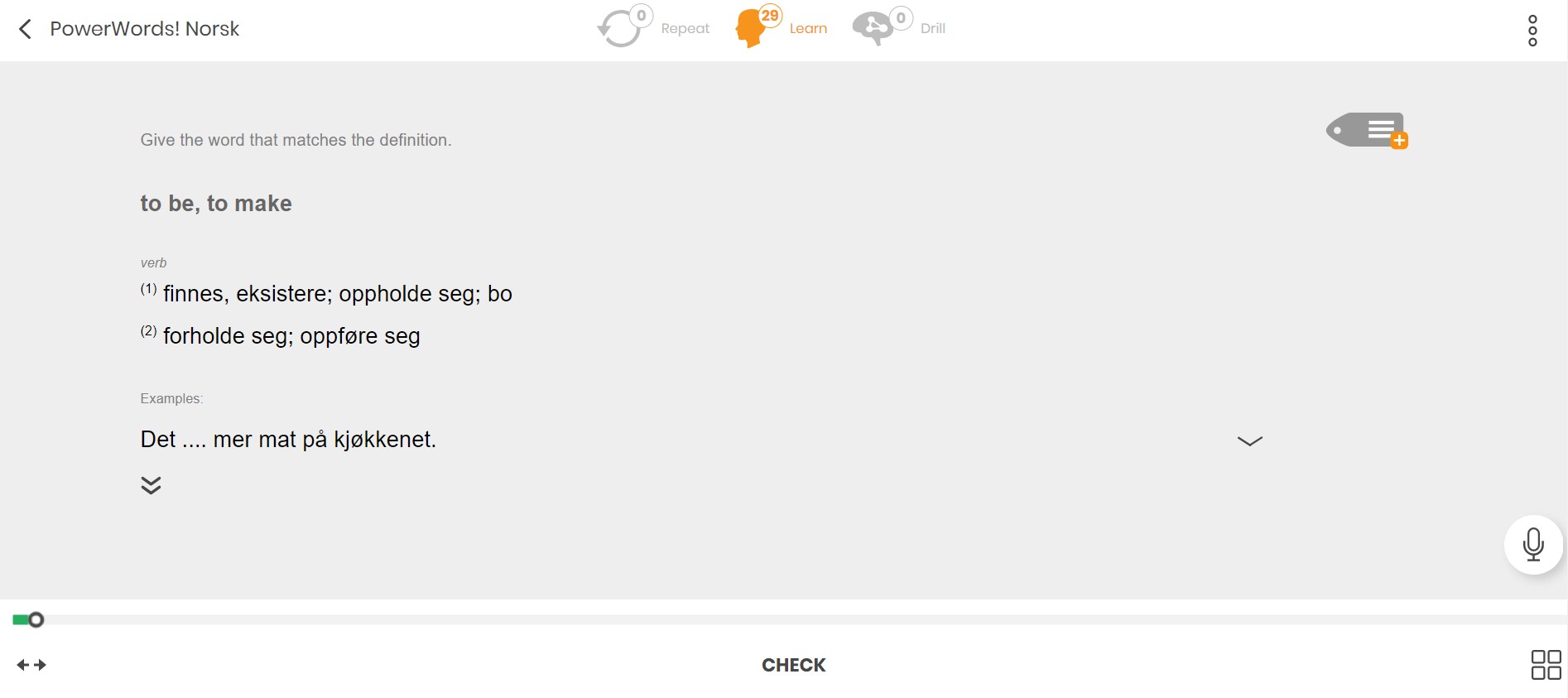 Additionally, after giving the answer in the task and clicking "Check", you can also use the AI Assistant feature. It is available after clicking the chat icon. Enter your question or command for the Assistant and get a quick response. The assistant can, for example, provide the correct answer, translate definitions and sentences. It can also write more synonyms or sentence examples using a given word.

In conclusion, courses from the PowerWords! series can be an excellent complement to learning with the app, textbook, or a tutor.