24 languages, over 200 courses.
Online and offline, on any device!
In the late 1980s, SuperMemo pioneered the application of spaced repetition in computer-aided learning. It helps you refresh previously learnt material at the right time.
It has since been researched and developed by us to provide the best learning experience possible. We have also made the basic algorithm version public, so others can be inspired to create their own learning programmes.
Thanks to the original and up-to-date SuperMemo method you learn:
Quickly, as we help you minimise the time needed to retain knowledge
Effectively, as you remember the information that you learn, and forget about forgetting
Once for all!
Learn English, Russian, French, Swedish, Italian, German, Spanish, Polish, Dutch, Norwegian, Danish, Portuguese, Finnish, Czech, Japanese, Arabic, Hungarian or Chinese. A Premium account gives you access to over 200 high-quality courses, focusing on different languages, skills and proficiency levels.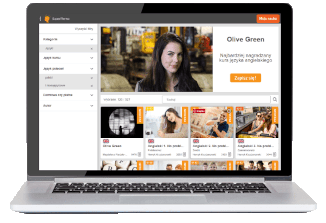 With Premium you can freely choose between courses like:
Olive Green English – a breakthrough in edutainment and the most award-winning English course in the world; watch and play with an interactive action film, designed to help you master the language
Extreme English, German, Spanish and French – learn vocabulary effectively with intensive vocabulary builders.
Hello! – pick up the basics of communication in one of 19 languages through a series of images.
Fast Track series – from first meeting with Danish, Dutch, Norwegian, Swedish or Chinese to effective everyday communication
Memo the Dragon – language courses for kids aged 4-6; have fun yourself and play with your child, with animated words in English, Spanish, Russian, French, German, Chinese, Japanese, Brazilian Portuguese, Italian or Polish
Young Learners English – all you need for your child aged 7-12 to prepare for the Cambridge English Young Learners exams
No Problem series – comprehensive language lessons from the basic (A1) to advanced (C1) level
Business English – 5 courses to improve your professional language skills or prepare for Business English exams
Phrasebook series – learn vocabulary and phrases to feel confident while travelling/li>
Grammar, idioms, exam courses and more – prepare yourself for exams such as FCE, CAE, CPE, TOEFL, IELTS, BEC, GRE, KET and dispel your grammar doubts.
You can create and publish your own learning content, too! Use it yourself, or share it with all SuperMemo users. You can also learn from a wide selection of courses designed by others on a variety of topics, including languages.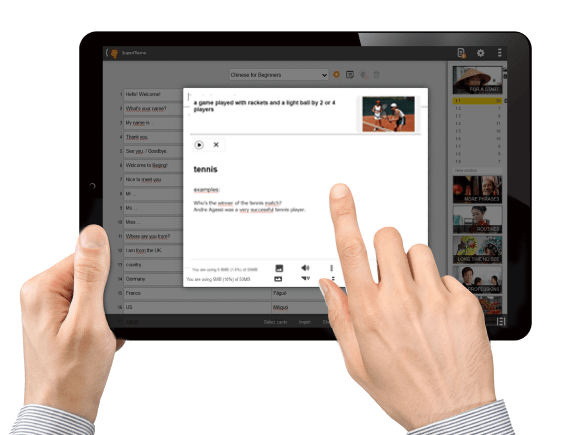 Try out the Premium subscription for free and get into online language learning! Choose from 20 languages and over 200 courses. Learn at your own pace!
Online and offline (your progress is transferred as long as you have access to the Internet)
On computers, smartphones and tablets
Either in the SuperMemo.com web service or apps available for iOS, Android and PC Windows.
Your learning progress is automatically synchronised between your app and your SuperMemo.com online account, so you can switch across different devices seamlessly.
Activate Premium and start learning the way you want to!
SuperMemo.com offers free and Premium courses. All Premium language courses can be accessed in a single auto-renewable subscription.
The first month of your subscription is free!
After the first free month, the regular monthly price of 39.90 PLN will be charged. Prices differ from country to country, depending on local taxes and currency rates. The exact price and currency will be quoted with the confirmation of purchase.
Your subscription automatically renews, unless auto-renew is turned off at least 24 hours before the end of the current period. Your account will be charged for renewal within 24 hours prior to the end of the current period, and identify the cost of the renewal.
As a Premium User you can learn anything you want. Find a course in the SuperMemo catalogue and sign up by clicking the Enroll button under the course photo.
Along with the subscription, you can also add an unlimited number of MemoCards, create more private courses (up to 100, consisting of 100,000 cards each) as compared to free users (who are limited to 10 courses consisting of 1,000 cards) and you get more storage space (200 MB instead of 50 MB) for the images and sounds that you add to your courses.
Activate and start learning! It's easy!
Press the "Join free for a month" button
Fill in the invoice data and confirm your order
You will be redirected to the payment site where you can finish your order
After that just enjoy your free month and sign up for all the courses you like!
To sign up for a course, go to its description page and click the Enroll button under the photo.
How to deactivate?
You can cancel your subscription at least 24 hours before the end of each monthly period.
PayPal subscription
To unsubscribe from Premium, go to the Orders section in your SuperMemo account, find the Subscription section and click the Cancel button. You can also deactivate your subscription in your PayPal account. If you activated the subscription before 12/07/2018, you can deactivate your subscription in your PayPal account only.
AppStore subscription
To unsubscribe from Premium, use the mechanism provided by Apple.