Do you remember the ranking system in the first version of supermemo.net, the groundbreaking e-learning platform for language learning? It was hugely popular among long-time users, but it didn't make it to the subsequent versions of the service. Well, we have fantastic news for you: the leaderboard is back! And even better, it's been revamped and now offers even more information about our users' memorization performance.
How does SuperMemo leaderboard work?
The new ranking system on SuperMemo works slightly differently than its predecessor. Instead of awarding points based on the sum of repetition intervals that weren't overdue, the ranking now focuses on the number of MemoCards remembered by the user. Each newly reviewed MemoCard earns you 1 point in the ranking. But be aware that the retention level decreases over time, especially if you don't carry out regular repetitions. That's why the number of points in the ranking can both increase and decrease. Fortunately, you can regain those lost points by doing repetitions.
How can you check your score in the new ranking? It's simple! Just head over to the Statistics > Leaderboard tab on learn.supermemo.com or in our new mobile app for the Android system. On the right side, in the user list, you will find the number of your points and an arrow symbol, which shows the changes for a given day.

Green – increase of points

Yellow – no change in that day

Red – decrease of points
Do you want to quickly check your position against other people in the ranking? By clicking on your position number above the list, you can easily scroll right to your current position. That way you can check how many points you are missing to climb up the ranking.
Currently, ranking positions are calculated from midnight UTC+2 time zone. But we plan to make changes so that everyone can see their score from midnight in their time zone.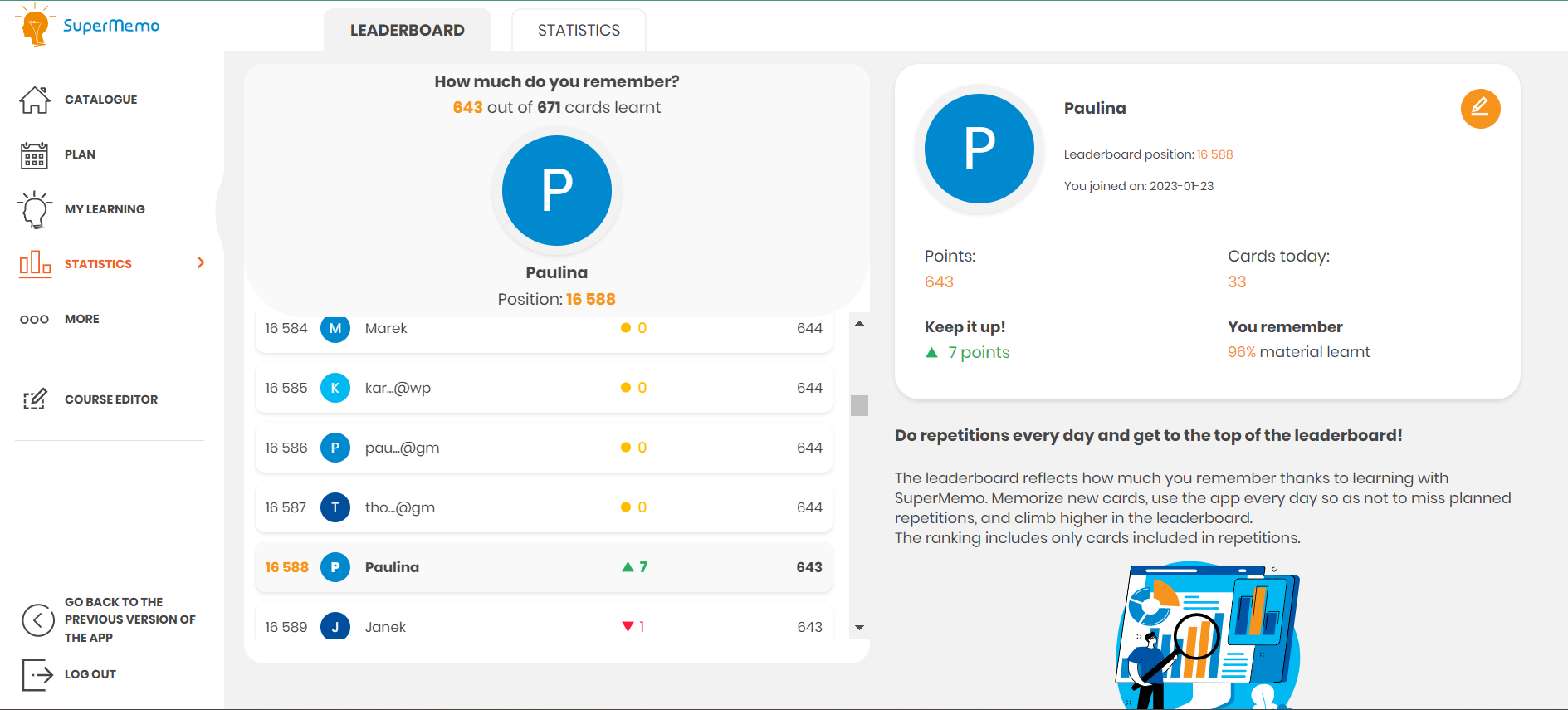 The leaderboard reflects how much you remember thanks to learning with SuperMemo. Memorize new cards, use the app daily to not miss scheduled repetitions, and climb the ranks. The leaderboard only considers cards that are within the scope of material for review.
Why are my points decreasing?
Leaderboard points reflect how much you remember. Their decrease is related to the passage of time, which leads to forgetting acquired knowledge (according to the forgetting curve). Check if you have any repetitions to complete. If not, the algorithm will automatically schedule them soon, allowing you to recover lost points. You can also review new cards, which will give you additional leaderboard points today.
Why are my points increasing?
The increase in leaderboard points is related to the fact that you remember more today than yesterday. If you want to maintain this state, keep learning – review new cards and do scheduled repetitions.
Don't wait any longer! Find out how the new ranking system motivates you to learn systematically and allows you to track your progress in SuperMemo. Join the competition and see where you stand among other users. Knowledge and fun are guaranteed!