Learning a foreign language should be enjoyable, which is why one of the most popular methods lately for acquiring knowledge is through TV series. Thanks to easy access to productions from all over the world, we can effortlessly choose a series in the language we want to learn. Read on to find out which TV shows we recommend and start learning today.
How to learn with a TV series?
Merely studying the theory of a foreign language is not enough. Learning a language with a TV show can be an effective way to develop language skills and a pleasant way to explore the culture and idioms used by native speakers. So, what can you do to make language learning with a TV series effective? Here are a few tips:
Choose a series in the language you want to learn. It's best if the show has subtitles available in both the original language and your native language. Additionally, it's beneficial if the show revolves around everyday matters or your interests. This way, learning will come more naturally to you.
Focus on listening. It's normal not to understand all the dialogues right away. Initially, try to comprehend as much as possible, and then move on to, for example, imitating the accent. The goal is to develop your listening skills and get accustomed to the natural pace of speech.
Use subtitles. If you have difficulty understanding the dialogues, you can use subtitles in the language you're learning. Another approach is to start with subtitles in your native language and gradually transition to subtitles in the target language. This will help you connect words and phrases with the spoken sound.
Analyze the dialogues and write down new words. Pay attention to interesting phrases, idioms, and new vocabulary that appear in the TV show. Write them down and check their meanings in a dictionary. You can also create sentences using these words to reinforce their usage.
Repeat sentences and dialogues. Try to mimic the pronunciation and intonation of the characters. Repetition will help you improve your accent and speaking fluency.
Practice conversations in the foreign language. Make use of the knowledge you've gained and attempt to converse with other people in that language. You can find conversation groups or engage in conversations with native speakers online.
Don't get discouraged by difficulties. Initially, it may be challenging to understand everything, but don't give up. Learning a language is a process that requires time and practice. Be patient and practice regularly.
TV series in English
Riviera
If you enjoy mysterious crime dramas, then "Riviera" is for you. The main character, Georgina, is an American-born art curator. Her comfortable and lavish life on the French Riviera is abruptly disrupted when her billionaire husband, Constantine, is declared dead after a mysterious explosion on a yacht. The circumstances surrounding her husband's death are full of secrets, prompting Georgina, who is engulfed in grief, to seek the truth about Constantine's past.
Starring Julia Stiles, known for her role in "10 Things I Hate About You," and Ivan Rheon, recognized from "Game of Thrones," the series takes place in the stunning city of Nice. While watching the show, you can not only immerse yourself in American pronunciation but also admire the breathtaking views.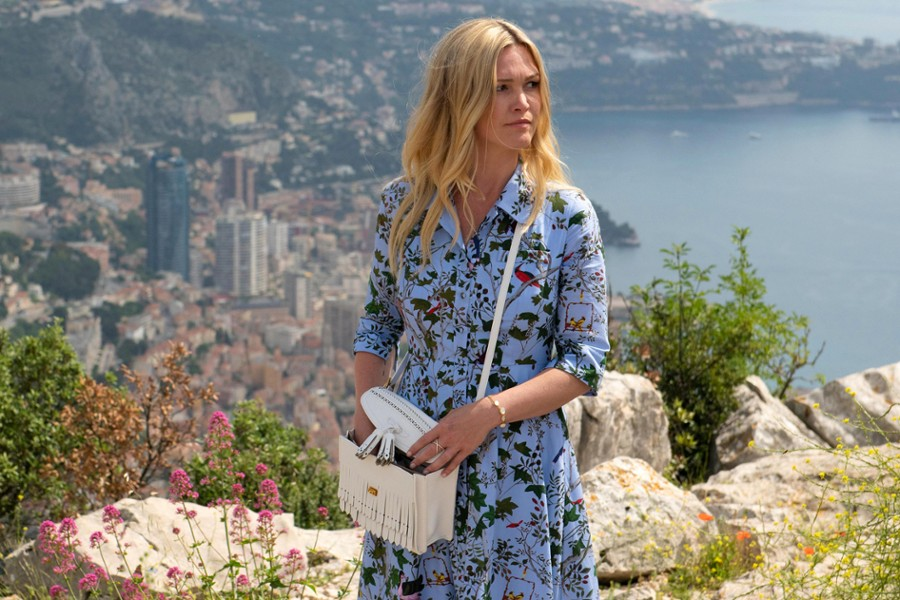 Black Mirror: Bandersnatch (Interactive Film/Episode)
The series "Black Mirror" is a collection of many stories connected by the main theme of technology problems and human flaws that come to light as a result. Each episode surprises us with a new concept that appears so plausible that it could happen in the near future. "Black Mirror" also experiments with its format, such as in the special episode "Bandersnatch."
This episode revolves around a young programmer who decides to create a game based on the book "Bandersnatch." It turns out that the book carries controversy as its author descended into madness.
An additional element that makes the episode even more intriguing is its interactivity. Viewers have the opportunity to make decisions about the character's next steps and can also go back in the story to explore other choice options.
You can watch "Black Mirror" on Netflix.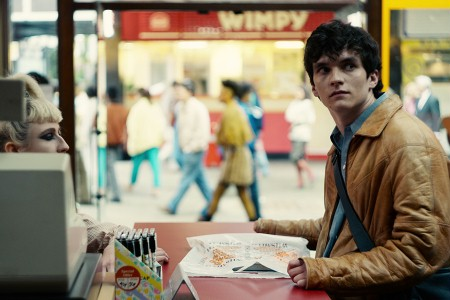 Are TV series in English not enough for you? Check out the bestselling Olive Green course presented as an interactive action film. It is a comprehensive English course from beginner level A1 to advanced level C1. The film is divided into scenes of increasing difficulty. This allows you to gradually understand more and eventually start watching other movies and TV shows in English with ease.
TV series in Spanish
Money Heist, Spanish: La Casa de Papel
"La Casa de Papel" is a well-known Spanish action series that tells the story of a group of criminals known by the names of cities: Tokyo, Nairobi, Rio, Denver, Helsinki, Berlin, and Oslo. Their leader is a mysterious mastermind known as "The Professor." The group plans the biggest heist on the Spanish Royal Mint, where they intend to print their own money.
"La Casa de Papel" has been around for several years but still remains at the top of the list of Spanish TV series.
Perhaps you are already familiar with this show but have only watched it with dubbing or subtitles in your native language. If you want to learn Spanish, it's worth turning on Spanish subtitles while watching. Especially in the beginning, when you need to get used to the speed of the spoken dialogue.
You can watch "Money Heist" on Netflix.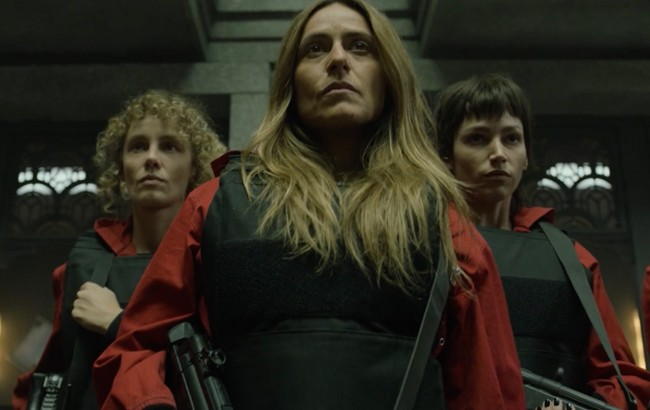 Élite
The series "Élite" focuses on the problems and relationships of students in an exclusive Spanish school. The story begins when three students from poorer, working-class families transfer there after their previous school is destroyed by a natural disaster. A conflict quickly arises between the wealthier and poorer students, which is further fueled by a mysterious murder for which they accuse each other.
With this series, you will learn everyday conversations in Spanish, as well as expressing emotions and narrating events from the past.
You can watch the series on the Netflix platform.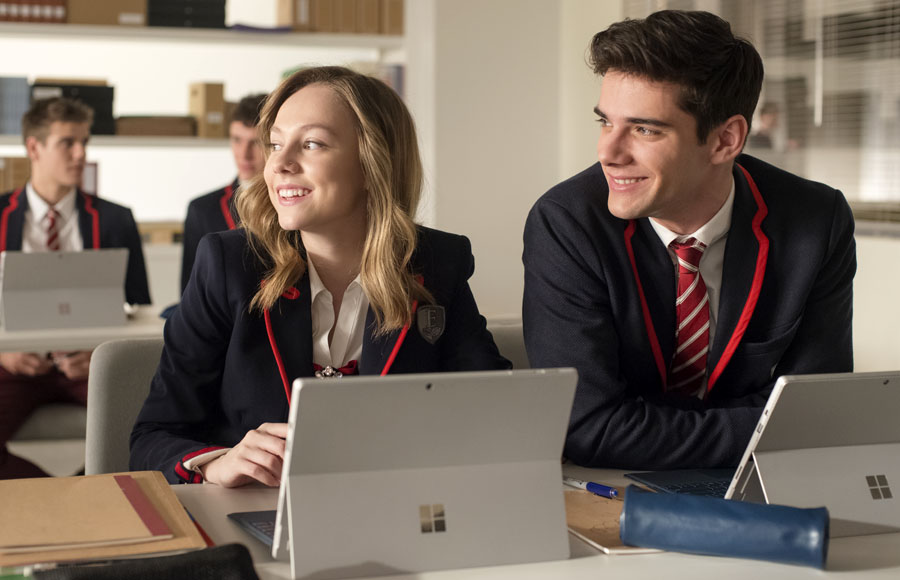 Do you want to deepen your knowledge of the Spanish language? Check out the course "Español. Modismos" at the B1-C1 level, which focuses on learning idioms. The learning of expressions starts with the most popular ones, commonly used in everyday conversations. Gradually, more difficult yet interesting phrases are introduced. It's worth supplementing your Spanish learning with this course, especially since idioms are such a characteristic element of everyday Spanish language usage.
TV series in German
Dark
The mysterious case of the disappearance of two children is revealed to be connected to events from several decades ago. This unique science fiction series captivates with its enigma and gradual uncovering of the truth about the fictional town of Winden and several generations living in the area. If you enjoy shows about time travel and watching attentively to not miss any clues, then "Dark" is definitely for you.
In addition, you will listen to the natural pronunciation of the German language and learn new vocabulary, which will give you greater fluency in everyday speaking or discussing theories about "Dark."
You can find the series on Netflix.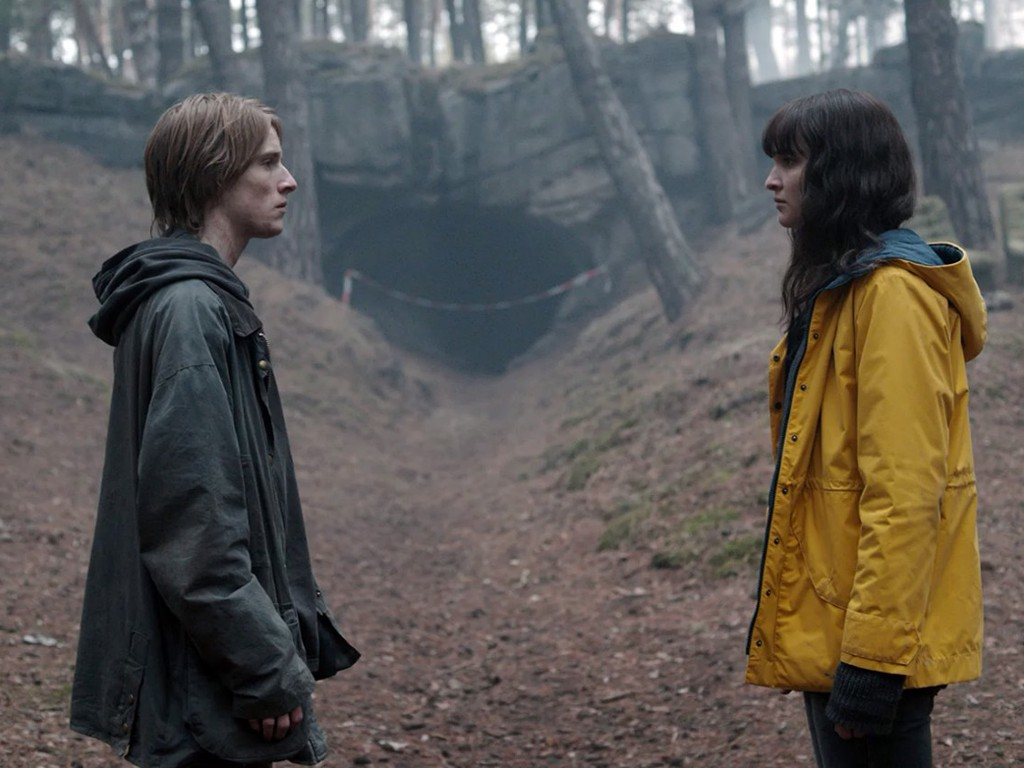 Babylon Berlin
Are you looking for a captivating period crime drama series? The answer is "Babylon Berlin," set in the 1920s. This series has a neo-noir atmosphere that sets it apart from other crime-themed shows. In "Babylon Berlin," you can admire the scenery of Berlin, including the iconic Alexanderplatz.
"Babylon Berlin" takes the viewer into the whirlwind of historical events that took place in interwar Berlin, such as the rising popularity of the Nazi party, workers' uprising, communist activities, and the fight for women's rights. The series portrays the atmosphere of constant chaos, political tension, and social unrest that prevailed during that time.
Crime storylines intertwine with the historical backdrop, and the characters in the series, just like the city of Berlin, play a symbolic role, reflecting the complexity and contradictions of the era. The world depicted in "Babylon Berlin" is full of illusions, intrigue, violence, as well as entertainment, art, and culture.
"Babylon Berlin" can be watched on HBO Max.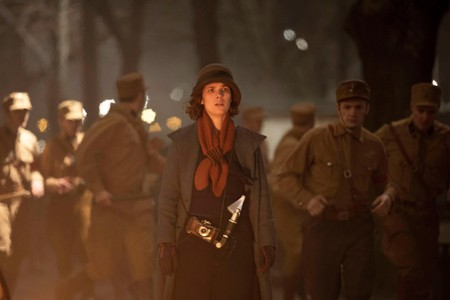 Alongside watching TV series, it is worth dedicating time to consolidating knowledge with a comprehensive intermediate-level course. Level B2 allows for understanding the majority of dialogues and engaging in fluent conversations on everyday topics. Check out the SuperMemo course "Niemiecki B2. Kein Problem!" for Polish users. For our international users, we offer German courses focused on vocabulary and phrases for traveling.
Shows in French
Call My Agent! French: Dix pour cent
"Call My Agent!" (original title: "Dix pour cent") is a French comedy series that depicts the behind-the-scenes of an acting agency in Paris. The plot revolves around four agents, Andréa, Mathias, Gabriel, and Arlette, who strive to manage the careers of their clients known as the "10 percent" (referring to the agency's commission rate).
"Call My Agent!" playfully explores the stereotypes associated with the entertainment industry, showcasing both the glamour and the pitfalls of show business. This series presents various aspects of actors' lives, from aspiring young talents trying to make a breakthrough to established stars dealing with the pressures of fame.
The comedic elements are balanced by dramatic moments that delve into the emotions, fears, and aspirations of both the actors and their agents. The series also addresses topics related to gender equality, violence in the film industry, and the pressure of success.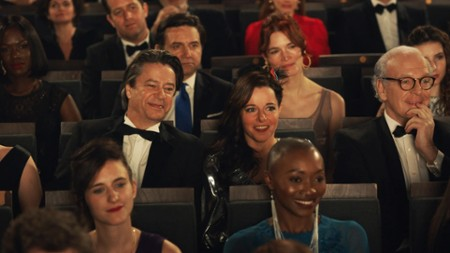 Family Business
"Family Business" is a French comedy series that revolves around the theme of marijuana legalization. The plot centers around Joshy Ritter, a young man from Paris who learns that the French government plans to legalize marijuana. He decides to seize this opportunity and transform his family's shop, which specializes in traditional halal meat, into the first legal cannabis products store in France.
"Family Business" combines elements of comedy, drama, and situational humor. The series also explores family dynamics and values, as the characters must work together and find a balance between their individual dreams and maintaining family unity. It portrays the generation gap and the different approaches to business and life among family members.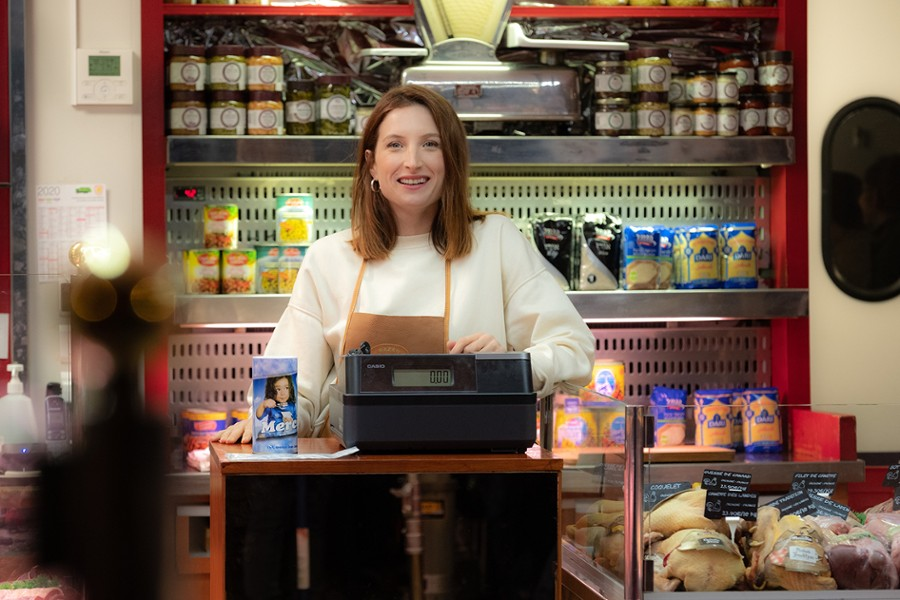 You will enjoy watching French series even more if you familiarize yourself with intermediate-level vocabulary in the meantime. This can be achieved through the course "Français Extrême: Intermédiaire," where you will learn up to 7000 words.
TV shows in Italian
Suburra: Blood on Rome, Italian: Suburra: La serie
"Suburra" is an Italian crime drama series based on Carlo Bonini's novel, which was also adapted into a film in 2015. The series is set in Rome and focuses on the world of organized crime, corruption, and power struggles.
The storyline revolves around three young men: Aurelio, Spadino, and Lele, who are trying to gain influence and control over the criminal underworld in Rome, where politics and crime are closely intertwined. Their attempts to build their own power and achieve success lead them down dangerous paths, where they encounter brutality, betrayal, and other consequences of their actions.
You can watch "Suburra" on Netflix.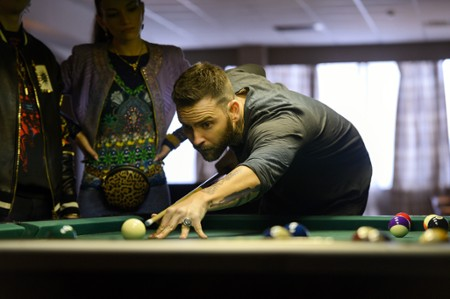 Summertime
"Summertime" is an Italian drama series that tells a love story set on the beautiful Italian Riviera. The series is an adaptation of Federico Moccia's novel Three Meters Above the Sky.
The storyline focuses on the romance between Summer, a young girl with a carefree and independent spirit, and Ale, a talented motorcycle rider who leads a more dangerous and rebellious life. Their meeting on the beach becomes the beginning of an intense summer romance that will change their perspectives and impact their lives.
You can watch "Summertime" on Netflix.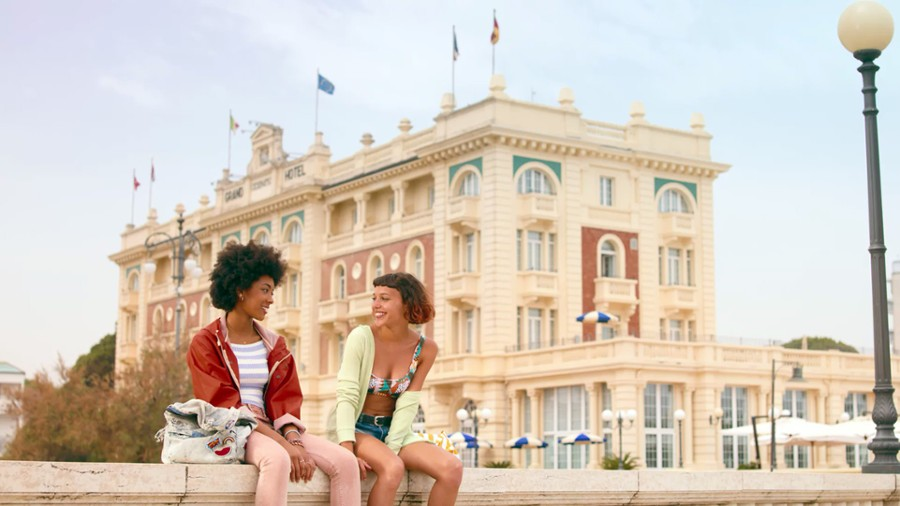 If you're planning an Italian vacation, it's definitely worth preparing in advance and learning some essential phrases. During the "Italian Phrasebook: Essentials for Travel" course, you will learn how to have conversations on basic topics such as travel, accommodation, food and drinks, shopping, and health.
Learning a language through a series is a combination of pleasure and practice, so don't wait and try this method today. With our suggestions, you will discover various aspects of foreign languages, including different accents, topics, and cultures. However, if you already know the examples from the post, you will surely find more noteworthy series to explore.