1885 - Forgetting curve: German psychologist Hermann Ebbinghaus, the pioneer of experimental study of memory, publishes his Contribution to Experimental Psychology. He used himself as his sole experimental subject. His work might be considered the first step to SuperMemo (formulated exactly 100 years later). Ebbinghaus' work was very influential (English translation 1913), yet for years it was not followed by similar research of major significance! His negatively exponential forgetting curve makes an important part of SuperMemo as of 1991. A myth that can be tracked down to this History of SuperMemo account says that Ebbinghaus invented spaced repetition!
1901 - Spaced review: American psychologist William James suggests that review of the learning material should be spaced in time. Similar conclusions were drawn by Ebbinghaus and Jost. Expanding rehearsal is the idea that gave birth to SuperMemo in 1985.
1913 - Spacing effect: W. H. Pyle confirms the superiority of spaced review experimentally in a classroom setting
1932 - Psychology of study: C. A. Mace hints on the efficient learning methods in his book "The psychology of study". He mentions "active rehearsal" and "repetitive revisions" that should be spaced in gradually increasing intervals, roughly "intervals of one day, two days, four days, eight days, and so on". This proposition is later taken on by other authors (including Tony Buzan), but does not permeate into the practice of study. Only a computer implementation of the idea, SuperMemo 1.0, half a century later, opened a way for a wider public to benefit from spaced repetition
1969 - Strength Paradox:
Robert Bjork
notices a reverse relationship between the probability of recall and the memory effect of a review. This will lead to Bjork's
theory of disuse
(1992) that will distinguish between the storage strength and the retrieval strength. The existence of those two memory variables has been first proven in 1988 on the basis of the properties of memory underlying the concept of SuperMemo (published in
1995
), and the precise relationship between the two variables was computed with the help of data obtained from SuperMemo in
2005
.
1972 - Expanding rehearsal: Sebastian Leitner publishes "So lernt man lernen" in which he describes his Leitner cardbox. The Leitner cardfile technique can be considered a precursor of spaced repetition. Although the timing of repetition in Leitner box is only loosely related to retention levels and is highly affected by the intensity of learning, the technique points to the benefits of expanding rehearsal in which successive repetitions occur in increasing intervals. The Leitner system appears ineffective in cases when it produces intervals substantially different than those that result in the desired level of knowledge retention; however, it appeared very popular in dozens of flashcard programs.
1982 - Active recall: Piotr Wozniak, a student of molecular biology at the Adam Mickiewicz University of Poznan, Poland, becomes frustrated with his learning progress. He embarks on a self-study course which will ultimately lead to the development of SuperMemo. He begins with an obvious conclusion that active recall serves memory far better than passive review. As a result, Wozniak starts writing down all his mission-critical knowledge on paper in the flashcard form.
1984 - Minimum information: Wozniak concludes that learning is much faster if knowledge is split into a number of simple questions and answers reviewed independently. This conclusion was later formulated as the minimum information principle, which is now considered part of the definition of the SuperMemo method.
1985 - Spaced repetition: Unaware of the previous work in the field, yet using experimental methods first applied by Ebbinghaus a century before, Wozniak runs two simple experiments on his own memory and finds out how review intervals affect the recall. He formulates his first repetition spacing algorithm that will later be known as SuperMemo. His learning with the new method begins on August 25, 1985. This day marks the birth of computational spaced repetition, i.e. the technique in which knowledge is reviewed in optimum intervals that are determined by a computer with the goal of reaching a desired level of knowledge retention. For a detailed description of the first algorithm see: Using SuperMemo without a computer
1987 - Spaced repetition software: Piotr Wozniak, now a student of computer science at the University of Technology in Poznan, writes his first computer program employing spaced repetition. In 16 evenings, he writes a very simple SuperMemo 1.0 for MS DOS in Borland's Turbo Pascal 3. The first computer algorithm introduced the concept of E-factor (i.e. the number that makes it possible to differentiate between items of different difficulty). Wozniak begins repetitions with SuperMemo 1.0 using his human biology learning material on December 13, 1987. See picture
1988 - SuperMemo gradually gains popularity at the Adam Mickiewicz University of Poznan, and the University of Technology in Poznan, Poland
SuperMemo 2.0 is written during summer vacation (Turbo Pascal 4.0)

Tomasz Kuehn

from University of Technology in Poznan writes SuperMemo for Atari ST (Pascal)
Przemyslaw Glowacki from University of Technology in Poznan writes SuperMemo for Atari XL (Basic)
SuperMemo 3.0 is completed by October 1988. It uses an up-to-date interface with pull-down menus
in an article that will make part of his Master's Thesis, Piotr Wozniak demonstrates the existence of the two components of long-term memory

1989 - first attempts are made to make SuperMemo available commercially
1990 - Under the supervision of Prof. Kierzkowski, the Head of the Computer Science Department, Piotr Wozniak writes his Master's Thesis: Optimization of learning. A new approach and computer application. This 200-pages dissertation was entirely devoted to the theoretical aspects of SuperMemo, described the evolution of the learning algorithm, included the model of intermittent learning and presented the author's optimistic vision of future applications
1991 - SuperMemo enters the commercial arena:

1992
January, Marczello Georgiew and

Tomasz Kuehn

join SuperMemo World
February, Andrzej Horodenski from Computer World initiates commercial sales of SuperMemo 6 by writing the first ever article about the SuperMemo method and software
March, SuperMemo World displays its products at CeBIT '92
September, SuperMemo 6 receives the first degree award at Softarg '92, Katowice, Poland
September, SuperMemo 6 receives a special award of the Polish Computer Science Society
December, SuperMemo World turns its first quarterly profit
December, SuperMemo 6 is awarded in the Product of the Year 1992 competition organized by

PC Kurier

, Poland
1993
January, after months of programming effort, SuperMemo 7.0 is released, one of few Windows software products in Poland at that time
March, SuperMemo 5 is released as freeware

March, German Chancellor Helmut Kohl comes to the stand of SuperMemo World during CeBIT '93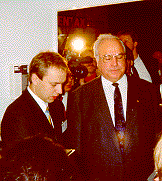 In the picture: Krzysztof Biedalak explains the principles of SuperMemo to Chancellor Kohl
May, SuperMemo 7.2 AudioVisual for Windows is released. This is the first SuperMemo able to display graphics and play sounds
August, SuperMemo 1.0 for Amiga is released
September, SuperMemo tops the chart of best Polish software applications for Amiga (Amiga Magazine)
September, SuperMemo 7 is awarded at Softarg, Katowice, Poland
December, SuperMemo becomes the first Polish software ever reviewed in Byte International
December, SuperMemo 7 is awarded in Product of the Year 1993,

PC Kurier

, Poland
1994
January, SuperMemo is voted 4-th most popular Polish software by readers of Polish PC World (behind anti-virus and word- processing products)
March, SuperMemo for Amiga is voted the Product of the Year 1993 among Polish software for Amiga by readers of Amiga Magazine
March, SuperMemo World displays SuperMemo 7.3 at CeBIT '94
March, SuperMemo is awarded for the best value/price ratio by the CENA/VYKON journal, Czech Republic
May, SuperMemo 7 is awarded a prestigious Gold Medal at Infosystem Computer Fair in Poznan
July, 10,000-th copy of SuperMemo has been sold
August, SuperMemo USA, Inc. publishes SuperMemo 7.4 on CD-ROM, including the audio release of Advanced English best-seller. This title becomes the first Polish Windows software title on CD-ROM ever
September, SuperMemo World is granted the special award of the fair's president at Softarg and receives a free display at Softarg 1995
September, SuperMemo World signs its first OEM bundling deal with JTT, second largest computer-maker in Poland
October, SuperMemo World publishes the European release of SuperMemo on CD-ROM
October, SuperMemo 7.2 tops the ranking of best-selling software sold on illegal software market, ahead of Microsoft Word 6.0 and Microsoft Works 3.0 (PC World Komputer, Vol. 11, 1994)
December, SuperMemo for Windows receives the Reader's Choice distinction from PC World Komputer (Vol. 12, 1994) by being voted second most popular Polish software in Poland and the most popular Polish Windows software in Poland
December, Wozniak completes his Economics of learning. This doctoral dissertation was entirely devoted to the SuperMemo method and outlined the theoretical basis for the future versions of SuperMemo for Windows. The concept of Knowledge Machine was an inspiration for future Incremental Learning
1995
January, SuperMemo 6 is released as freeware
February, SuperMemo receives a positive review in the most prestigious European computer journal: German Chip
March, releasing SuperMemo 1.0 for Macintosh (this version was later discontinued due to poor profitability)
March, SuperMemo Worlds displays its Multilingual SuperMemo 7.5 CD-ROM at CeBIT'95
April, Polish Prime Minister Waldemar Pawlak buys a copy of SuperMemo for personal use (he refused a free gift)
April, SuperMemo User Survey reveals that users of SuperMemo consider the program their single most important application!
April, SuperMemo World signs a comprehensive OEM deal with Optimus, the greatest computer-maker in Poland
May, 30,000-th copy of SuperMemo has been sold
September, five hundred beta-testers get their hands on a Pre-Release CD-ROM with the first hypermedia SuperMemo codenamed Genius - precursor of SuperMemo 8.0.
November, SuperMemo World is the first Polish company ever to display its products at Comdex in Las Vegas (in the picture: Marczello Georgiew)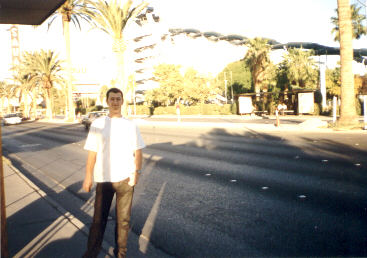 1996

January, SuperMemo is voted the best Polish application by readers of PC World, Komputer
January, first SuperMemo hypermedia CD-ROM title is released: Video English (with Genius 1.0, early precursor of SuperMemo 8)
June, SuperMemo Corporation is incorporated in the US with a goal of making it the first company of Polish origin on NASDAQ. The company came close to securing substantial venture capital but ultimately ... closed
September, Cross Country hypermedia best-seller CD-ROM is released (with Genius 2.0, precursor of SuperMemo 8)
September, precursor of SuperMemo 8, Genius 2.0, receives its first award as the hypermedia authoring tool at Softarg, Poland
October, 60,000 readers of Chip in Poland receive a CD-ROM with the full version of the hypermedia authoring SuperMemo (Genius 2.0). Free!
November, first Polish multimedia encyclopedia CD-ROM is released together with SuperMemo as an integrated tool for learning selected encyclopedic material

1997

January, SuperMemo World, Polish veteran of CeBIT and the first Polish company present at Comdex makes a strategic conversion towards the Internet away from major software fairs. SuperMemo Website at www.supermemo.com will become SuperMemo World's best marketing tool ever
January, Polish PWN Encyclopedia with SuperMemo is voted the best Polish software product by readers of

PC Kurier

February, The Internet welcomes SuperMemo. This website becomes operational
February, SuperMemo 8 enters beta-testing. For the first time, beta-testing is run exclusively over the Internet with a dramatic impact on bug-spotting and reliability
May, over 100 international over-Internet beta-testers submit their final reports. This SuperMemo 8 beta-testing program alone brought more valuable data than all programs before
May 12, SuperMemo World releases Deine Chancen in Deutsch with SuperMemo 8 (first commercial CD-ROM with hypermedia SuperMemo)
June 12, for the first time ever SuperMemo can be downloaded from the web
Oct 22, 80,000 readers of Chip in Poland receive a CD-ROM with SuperMemo 8.0 (Free!) and a demo of Advanced English 97
November 6, SuperMemo Research is formed with the purpose of investigating Internet applications of SuperMemo and fostering international scientific, business, and educational contacts
November 10, Advanced English 97 with SuperMemo 8 is released

1998

January 31, SuperMemo 8.4 ends the 16-bit line of SuperMemo for Windows (available for download from this website)
March 20, SuperMemo Library hosted by Michal Hejwosz and Piotr Maksimczyk is inaugurated at this website
May 25, SuperMemo World signs a licensing and distribution contract with

Vulcan Media

. By September 1998, the two companies will jointly develop the largest network of sales representatives in Poland covering virtually all software resellers in the country. Additionally, SuperMemo technology will become integrated with all new educational titles released by

Vulcan Media

(including the Multimedia Encyclopedia best-seller)
August 1, SuperMemo World as the first company in Eastern Europe opens an e-commerce store at Yahoo Stores
September 28 - SuperMemo 98 is released
November 27 - SuperMemo 98 is featured among most successful Delphi application at

Inprise Corp. website

December 1 - SuperMemo appears on DVD as part of the best-selling Polish Multimedia Encyclopedia (PWN, 1999 Edition). This title has sold 45,000 copies in two years

1999

April 26, 300,000 copies of Easy English #1 CD-ROM have been released in Poland. This is the largest run of SuperMemo ever
May 10, SuperMemo MegaMix 99 is released with 319 SuperMemo collections written by users of SuperMemo (this collection took four years to compile!)
July 5, on the eighth anniversary of SuperMemo World, 1,000,000th CD-ROM with SuperMemo has been released
September,

SuperMemo for Windows CE

is released
October 4, SuperMemo 99 introduces a new concept: the reading list. Reading lists extend the application of SuperMemo to the area of knowledge acquisition, selection, prioritization, and formulation. SuperMemo 99 helps the user to read articles imported from the web and should further increase the gap between electronic and printed matter
November 23, in its probably greatest success ever, SuperMemo has been nominated to the title of the Product of the Decade by

PC Kurier

, Poland (among three other contenders)

2000
2001
2002
2004
2005

March, SuperMemo for Windows originally developed in Delphi 1.0 is 10 years old (it succeeded SuperMemo for Windows developed in Borland Pascal in the years 1992-1995)
March, First SuperMemo DVD: Extreme English DVD combines the most popular learning material (Advanced English) with the most widely distributed SuperMemo (Multimedia SuperMemo)
May, SuperMemo 98 for Windows is released as freeware
August, SuperMemo method is 20 years old

2006
2007

March, SuperMemo 2006 for Windows pioneers tools for tackling the overload of the learning material: priority queue, auto-sort and auto-postpone. This makes it possible to increase the volume of incremental reading without a detriment to the retention of the top priority material
Dec 13, SuperMemo software is 20 years old

2008

April, Wired Magazine publishes a 7 page article on the history of SuperMemo
December, a contract with the Polish Ministry of Education brings SuperMemo to 144,000 computers in Polish schools

2009

March,

SuperMemo 2008

pioneers the optimization of learning based on the optimization of the timing of sleep. SuperMemo thus enters a long road towards the future in which sleep can be optimized for the sake of learning, while learning can be optimized with the view to the timing of sleep. The bridge between the two worlds initiates a process in which truckloads of data are being generated for investigating the relationship between sleep and memory. See: impact of sleep on learning
September, SuperMemo 2008 introduces the concept of

incremental video

, which is an extension of incremental reading into the world of video. It also makes further inroads in the area of visual learning
December, iPhone has its own SuperMemo too

2012

SuperMemo World opens SuperMemo Language Center in Poznan, Poland

2013
---
See also: