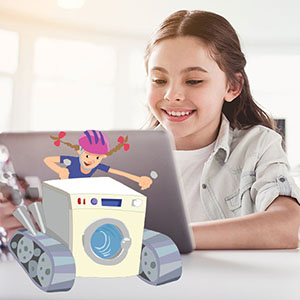 A1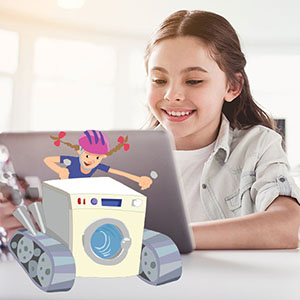 Young Learners 2: Move with English
---
---
Language of instruction:
English, Polish
An English course for children 9-10 years old. Listenings, vocabulary and more.
Young Learners 2: Move with English – the second course in the Cambridge English: Young Learners series available at the e-learning platform SuperMemo.com – is aimed at children aged 9 and 10. The goal of the course is to prepare its young students to take the international Cambridge English: Young Learners test at the Movers level.
The course contains over 600 interactive exercises with funny animations illustrating the new vocabulary, as well as voice recordings made by British native speakers. Children learn English vocabulary and grammar through play which helps them retain their knowledge.
Learning outcomes:
Children learn and memorise 135 new English words while making active use of the vocabulary discovered in the course Young Learners 1: Start with English
They listen and get used to natural English pronunciation
The course stimulates their natural imagination and curiosity in new and inspiring ways
Children become more and more fascinated with language learning thanks to the course design adapted to their needs!
Children can check their language level with YLE mock exam imitating the real Cambridge YLE Movers exam.
Grammar and vocabulary taught in the course Young Learners 2: Move with English meet the requirements of the international Cambridge English: Movers certificate issued by the University of Cambridge.
Young Learners series:
Course topics:
City Map
Family Race
Bigger, Quicker, More Terrible…
UFO Crash Landing
Pirate Island
The Things He Does
Crazy Hospital
Days of the Week
Strange Dream
Picnic in the Park
Trekking in the Country
Weather Forecast
Dressing-up Party
Take advantage of all our courses
Try it for 30 days free
Cancel any time you want
Make a single purchase
Learn without limits
Learn anywhere and anytime you want
49.00 EUR
Single transaction
Start a free month
Buy now
Try SuperMemo for 30 days free.
"The first month for free" is a one-time offer for new SuperMemo users. After 30 days your App Store account will be charged a fee of PLN 39.90. Your Premium subscription will be automatically renewed, unless you cancel it at least 24 hours before the end of the current payment period.To cancel your Premium subscription use your App Store account settings. If you've used the free month before, your App Store account will be charged immediately.
Take advantage of all our courses

Try it for 30 days free

Cancel any time you want
49.00 EUR
/ Single transaction
Make a single purchase

Learn without limits

Learn anywhere and anytime you want