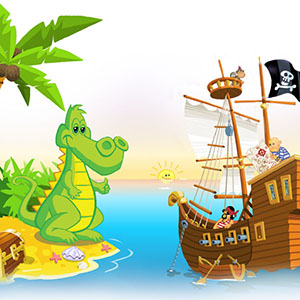 A0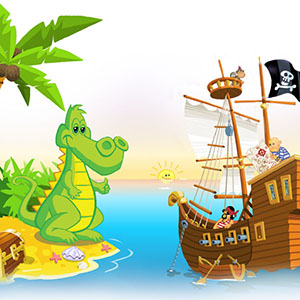 Polish with Memo the Dragon 2
---
---
Language of instruction:
Chinese, English, French, German, Italian, Japanese, Polish, Portuguese (brazilian), Russian, Spanish, Ukrainian
Continued learning with Memo the Dragon. Interactive animations, exercises.
Have you already met Memo the Dragon? That's great! Our funny green friend invites you to join him in another exciting Polish adventure! Here you will find 100 more new Polish words and phrases for you and your kids!
The course Polski ze Smokiem Memo 2 follows on from the Polish language fun for children aged 4-6 found in the first adventure of Dragon Memo. The course consists of 10 colourful animated presentations depicting school, home, games and everyday situations. Learning with Memo the Dragon is an exciting adventure for children of all ages – even those who are not yet able to read!
In this part of the course you have at your disposal another collection of 200 interactive exercises which let children test their vocabulary skills and consolidate the material. Thanks to the intelligent repetition system, children revise words and phrases in a pattern which helps them remember the basics of Polish in the most effective way. Come and join the fun!
Memo the Dragon can teach children in English, French, German, Spanish, Russian, Chinese, Portuguese (Brasilian), Italian and Polish.
Learning outcomes:
Children learn and memorise 100 Polish words and phrases
Children listen and get used to natural Polish pronunciation
The course Polski ze Smokiem Memo stimulates the imagination and curiosity of the youngest Polish enthusiasts
With the SuperMemo method, children learn Polish quickly and permanently memorise new words!
Course topics:
In the Forest
Jobs
At School
My House
At the Lake
Treasure Island
Winter
Food and Drink
My Body
Expressions
Take advantage of all our courses
Try it for 30 days free
Cancel any time you want
Make a single purchase
Learn without limits
Learn anywhere and anytime you want
29.00 USD
Single transaction
Start a free month
Buy now
Try SuperMemo for 30 days free.
"The first month for free" is a one-time offer for new SuperMemo users. After 30 days your App Store account will be charged a fee of PLN 39.90. Your Premium subscription will be automatically renewed, unless you cancel it at least 24 hours before the end of the current payment period.To cancel your Premium subscription use your App Store account settings. If you've used the free month before, your App Store account will be charged immediately.
Take advantage of all our courses

Try it for 30 days free

Cancel any time you want
29.00 USD
/ Single transaction
Make a single purchase

Learn without limits

Learn anywhere and anytime you want