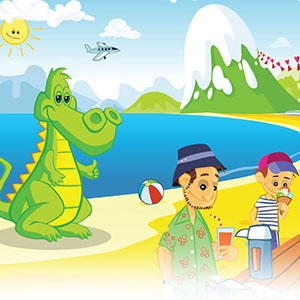 A0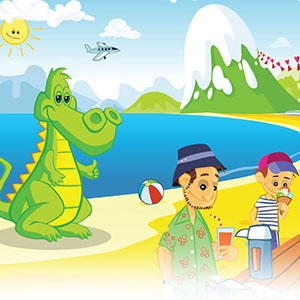 Italian with Memo the Dragon 1
---
---
Language of instruction:
Chinese, English, French, German, Italian, Japanese, Polish, Portuguese, Russian, Spanish
Have fun and learn a language with Memo the Dragon. An animated course for children 4-6.
Italiano con Memo il Drago 1 is an Italian language course for children aged 4-6 years. In a fantastic adventure with Memo the Dragon, a well-known character popular with youngsters, your child will learn 100 of the most important Italian words in an enjoyable way based on animations. And thanks to the SuperMemo method, which is famous for its effectiveness, they will remember them for good.
The Italian course Italiano con Memo il Drago 1 was designed for the youngest learners. The course consists of 10 colourful, animated boards presenting Italian words in a humorous way. Learning Italian with Memo the Dragon not only educates but also stimulates the imagination! There are basic Italian phrases covering colours, numbers, animals and toys as well as other elements from your child's everyday life.
The course also includes 200 interactive exercises. They allow you to test your child's language skills and consolidate the material through play. After each exercise, the SuperMemo method determines the time of the next repetition at the optimal moment, thanks to which learning brings real results!
Memo the Dragon can teach children Italian in Polish, English, Russian, German, French, Spanish, Portuguese (Brazilian), Chinese and Italian.
Check also Italiano con Memo il Drago 2.
Access granted to all courses
The first month for free , then PLN 29.90
You can opt out at any time
Make a single purchase
Learn without limits
69.00 PLN
Single transaction
Subscribe
One-time purchase
Try SuperMemo for 30 days free.
"The first month for free" is a one-time offer for new SuperMemo users. After 30 days your App Store account will be charged a fee of PLN 29.90. Your Premium subscription will be automatically renewed, unless you cancel it at least 24 hours before the end of the current payment period. To cancel your Premium subscription use your App Store account settings. If you've used the free month before, your App Store account will be charged immediately.