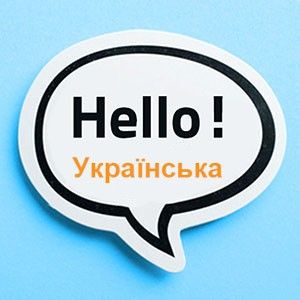 A1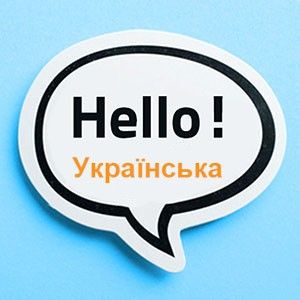 ---
---
Language of instruction:
Chinese, Czech, English, French, German, Italian, Japanese, Polish, Portuguese, Russian, Spanish, Ukrainian
Basics of Ukrainian in images, useful expressions, and phrases from everyday life.
Learn Ukrainian online. Our Ukrainian language course Hello! Українська will help you master over 500 basic Ukrainian phrases in less than 2 months by learning for just a few minutes a day.
Hello! Українська is an image-based Ukrainian course that will help you learn Ukrainian with a wide range of pictures spanning different everyday situations. It covers 51 scenarios for you to master basic Ukrainian expressions and feel comfortable while speaking Ukrainian.
Each lesson features original voice recordings of Ukrainian native speakers to allow you to listen to what the Ukrainian language sounds like, and with the voice recognition feature, you'll be able to practice Ukrainian pronunciation*. This combination of sight and sound will stimulate your brain and improve retention, helping you learn Ukrainian more effectively.
With SuperMemo's innovative method of spaced repetition, you can learn anywhere you want and any time you want. Our Ukrainian language course is available on web browsers, Windows computers, and Android and iOS* devices – both online and offline.
IMPORTANT:
* The speech-to-text (STT) feature is available only on Android devices.
This Ukrainian language course Hello! Українська contains vocabulary and phrases that will be useful in the following situations:
Unit 1: check-in at the airport, on-board announcements, ordering meals on an airplane, meeting new people, lost luggage.
Unit 2: getting to the hotel, traveling by bus or taxi, booking accommodation, going to a restaurant.
Unit 3: interests, seeing friends, cultural events, bicycle trips, picnics.
Unit 4: buying medicine, fines, car repairs, gas stations, reporting theft.
Unit 5: packing for a day out, going to the beach, diving, short trips.
With our Ukrainian language course for beginners, you will learn basic Ukrainian phrases, including:
everyday items
food and drinks
numbers
colors
days of the week
places
jobs
nationalities
family members
weather
well-being
diseases
descriptions of people
traveling
transportation
interests
cosmetics
auto parts
Take advantage of all our courses
Try it for 30 days free
Cancel any time you want
Make a single purchase
Learn without limits
Learn anywhere and anytime you want
19.00 USD
Single transaction
Start a free month
Buy now
Try SuperMemo for 30 days free.
"The first month for free" is a one-time offer for new SuperMemo users. After 30 days your App Store account will be charged a fee of PLN 39.90. Your Premium subscription will be automatically renewed, unless you cancel it at least 24 hours before the end of the current payment period. To cancel your Premium subscription use your App Store account settings. If you've used the free month before, your App Store account will be charged immediately.
Take advantage of all our courses

Try it for 30 days free

Cancel any time you want
19.00 USD
/ Single transaction
Make a single purchase

Learn without limits

Learn anywhere and anytime you want