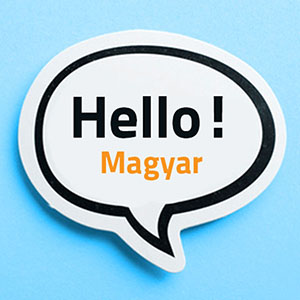 A1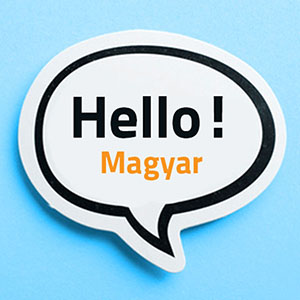 ---
---
Language of instruction:
Chinese, Czech, English, French, German, Italian, Japanese, Polish, Portuguese, Russian, Spanish, Ukrainian
Basics of Hungarian in images, useful expressions and phrases from everyday life.
Easy and fast learning Hungarian! Discover Hello! Magyar – a fast Hungarian language course for beginners, which is an ideal introduction to regular learning. By working everyday for several minutes, you will get to know more than 500 basic Hungarian phrases in less than 2 months!
The SuperMemo method, valued around the world, optimizes your learning and reminds you to repeat specific phrases at the most appropriate times to make sure that you fix the material in your memory for good.
Hello! Magyar is a picture-based course, using specially prepared graphics. By completing short exercises, you will learn the basic Hungarian phrases necessary for interaction in this language. Photos with symbolic icons allow you to quickly acquire new material and master it without having to translate it into your own language. This Hungarian language course for beginners covers 51 communication situations that you will find useful during a trip to the country of hot peppers and Tokaj.
All of the basic phrases in Hungarian are accompanied by original recordings made by Hungarian native speakers, thanks to which you will learn the correct pronunciations faster. And with the course's speech recognition function you will also have the opportunity to practice them yourself.
After completing Hello! Magyar you will be able to successfully deal with the following situations:
Unit 1: pre-flight briefings, messages during air travel, ordering in-flight snacks, getting to know fellow travellers, lost luggage problems.
Unit 2: reserving accommodation, travelling to your hotel, taxi and bus rides, meals in restaurants.
Unit 3: leisure activities, going out with friends, museum trips, cycling trips, picnics.
Unit 4: at a pharmacy, getting a parking ticket, car repairs, refuelling at a gas station, being pickpocketed.
Unit 5: packing for a day out, sunbathing, going diving, going on short trips.
With our Hungarian language course for beginners, you will learn the basic phrases covering topics such as:
everyday objects
food and drink
illness and well-being
parts of the body
nationalities
family and relatives
important places
means of transport
cosmetics
numbers
colours
hotel rooms
outdoor activities
days of the week
competitions
describing people
weather.
Take advantage of all our courses
Try it for 30 days free
Cancel any time you want
Make a single purchase
Learn without limits
Learn anywhere and anytime you want
19.00 USD
Single transaction
Start a free month
Buy now
Try SuperMemo for 30 days free.
"The first month for free" is a one-time offer for new SuperMemo users. After 30 days your App Store account will be charged a fee of PLN 39.90. Your Premium subscription will be automatically renewed, unless you cancel it at least 24 hours before the end of the current payment period.To cancel your Premium subscription use your App Store account settings. If you've used the free month before, your App Store account will be charged immediately.
Take advantage of all our courses

Try it for 30 days free

Cancel any time you want
19.00 USD
/ Single transaction
Make a single purchase

Learn without limits

Learn anywhere and anytime you want