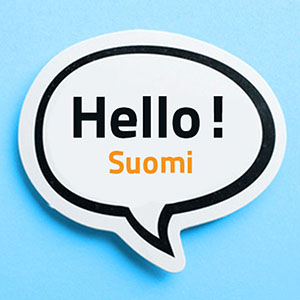 A1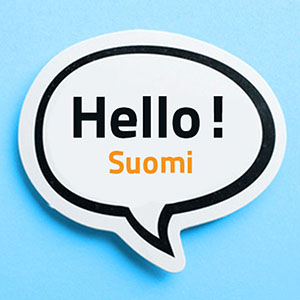 ---
---
Language of instruction:
Chinese, Czech, English, French, German, Italian, Japanese, Polish, Portuguese, Russian, Spanish, Ukrainian
Basics of Finnish in images, useful expressions and phrases from everyday life.
The Hello! Suomi course will teach you the basics of Finnish quickly and once and for all. The course is dedicated to people who are interested in learning Finnish from scratch. With a daily intake of the designated material, less than two months are needed to learn more than 500 of the most useful Finnish phrases.
Thanks to the well-known SuperMemo method, which will plan the most effective learning schedule for you, your acquisition of knowledge will be faster and more effective than working with traditional methods. The algorithm will not let you forget the newly learned words and phrases in Finnish.
Hello! Suomi is a picture-based course. Illustrations support the process of remembering and enable learning without translations into your native language. You will master the basic Finnish phrases that will allow you to communicate in this language. The course includes 51 situations frequently encountered while travelling or in simple contact with Finns.
All of the basic phrases in Finnish are recorded by native speakers to help you in learning the right pronunciation right away. Speech Recognition also gives you the opportunity to practice it. With this course, in a very short time, you will master the basics of Finnish – you will start to think and speak in this new language with no problems.
After finishing the Hello! Suomi course you will be able to communicate in the following interactive situations:
Unit 1: checking in at the airport, flying by plane, reporting lost luggage.
Unit 2: getting around, on public transport and in taxis, organizing accommodation, having meals in a restaurant.
Unit 3: discussing ways of spending free time, meeting friends, in a museum, on a bike ride, having a picnic.
Unit 4: describing illnesses, getting parking tickets, refuelling your car, fixing problems with your car, reporting thefts.
Unit 5: preparing for trips, going to the beach, going diving, going on excursions outside the city.
The course contains basic phrases in Finnish relating to:
human body
feelings and emotions
describing physical appearances
weather conditions
everyday objects
food
nationalities
professions
family and relatives
sightseeing
colours
vehicles
health and beauty
numbers
hotel rooms
sports
days of the week.
Take advantage of all our courses
Try it for 30 days free
Cancel any time you want
Make a single purchase
Learn without limits
Learn anywhere and anytime you want
19.00 USD
Single transaction
Start a free month
Buy now
Try SuperMemo for 30 days free.
"The first month for free" is a one-time offer for new SuperMemo users. After 30 days your App Store account will be charged a fee of PLN 39.90. Your Premium subscription will be automatically renewed, unless you cancel it at least 24 hours before the end of the current payment period. To cancel your Premium subscription use your App Store account settings. If you've used the free month before, your App Store account will be charged immediately.
Take advantage of all our courses

Try it for 30 days free

Cancel any time you want
19.00 USD
/ Single transaction
Make a single purchase

Learn without limits

Learn anywhere and anytime you want