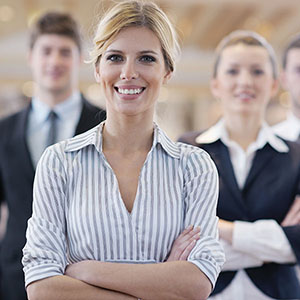 B1 - B2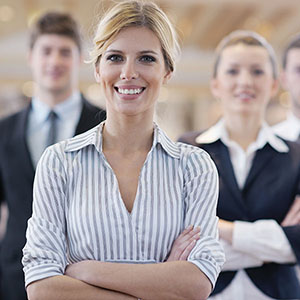 Business English: Management
Course level:
Intermediate
Course level:
Intermediate
---
---
Language of instruction:
English
Business English course for managers and more!
Is your job managing a team, supervising and organising projects, or other management tasks? Discover the course "Business English: Management" and acquire vocabulary and phrases related to topics such as company development, finances and team building.
In addition, the course includes a lot of engaging, interactive exercises that will help you consolidate your knowledge and efficiently use Business English in practice, e.g. during presentations, meetings or interviews.
"Business English: management" – topics covered in the course:
Types of employment
Team building
Company structure
Quitting a job, getting fired
Company development
Financials.
Other available courses from the Business English series:
All the topics in this Business English course are introduced through short videos. Each lesson includes a useful text or dialogue and a set of exercises to test your progress.
"Business English: management" – who can learn with the course?
The course is best suited to people who have already learned the basics of the English language, especially managers who need Business English vocabulary and phrases to manage their team and supervise projects. However, "Business English: Management" will be useful to any person who requires Business English to perform their daily duties at work. The course is also great preparation material for the Cambridge English: Business English and TELC BE exams.
How to learn with "Business English: management":
Watch the videos and learn the content
Read and listen to the dialogues and texts
Check if you understand the material
Revise and consolidate your knowledge
Increase your new Business English skills!
By learning for 30 minutes a day, you can master the entire course in 6 weeks. The SuperMemo method guarantees fast learning and permanent memorisation of over 300 current and useful expressions in the field of Business English.
Take advantage of all our courses
Try it for 30 days free
Cancel any time you want
Make a single purchase
Learn without limits
Learn anywhere and anytime you want
29.00 USD
Single transaction
Start a free month
Buy now
Try SuperMemo for 30 days free.
"The first month for free" is a one-time offer for new SuperMemo users. After 30 days your App Store account will be charged a fee of PLN 39.90. Your Premium subscription will be automatically renewed, unless you cancel it at least 24 hours before the end of the current payment period.To cancel your Premium subscription use your App Store account settings. If you've used the free month before, your App Store account will be charged immediately.
Take advantage of all our courses

Try it for 30 days free

Cancel any time you want
29.00 USD
/ Single transaction
Make a single purchase

Learn without limits

Learn anywhere and anytime you want