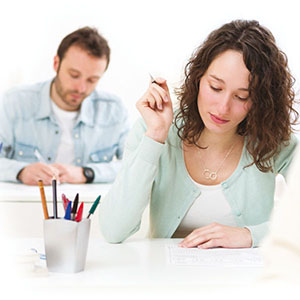 B2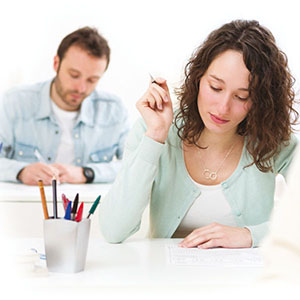 B2 First (FCE)
Course level:
Intermediate
Course level:
Intermediate
---
---
Language of instruction:
English
Cambridge B2 First (FCE) preparation course.
IS THE CAMBRIDGE B2 FIRST (FCE) EXAM SOMETHING FOR YOU?
Are you thinking about working in an English-speaking environment, studying abroad, or maybe you just want to certify your knowledge of English? Passing the Cambridge B2 First (formerly FCE) exam allows you to get one of the most popular and recognised language certificates around the world.
ENGLISH CERTIFICATE – GET READY WITH THE B2 FIRST (FCE) COURSE
Self-study is a great complement to your preparations, and the B2 First (FCE) course is here to help you. It contains a specially selected set of tasks and exercises, created and divided in accordance with the exam's guidelines and structure. You will also find here recordings made by native speakers, examples of correct spoken and written answers to exam tasks, and two simulations – mock exams.
LEARN FOR THE EXAM, USE ALWAYS
The course is based on the original SuperMemo spaced repetition method, which guarantees you sustainable progress and allows you to use the knowledge acquired not only in the exam. The SuperMemo algorithm picks the optimal moments for repetitions of the material for you, thanks to which you will remember permanently almost 100% of the information learned.
PICK THE TIME AND PLACE
Is your day really busy? 20 minutes of learning per day with the B2 First (FCE) course is enough – on any device, at any place, any time. Your progress will be automatically synchronised across devices. Are you having a break at work, waiting for a bus or standing in a queue? Every moment is perfect to start learning!
Access granted to all courses
The first month for free , then PLN 29.90
You can opt out at any time
Make a single purchase
Learn without limits
119.00 PLN
Single transaction
Subscribe
One-time purchase
Try SuperMemo for 30 days free.
"The first month for free" is a one-time offer for new SuperMemo users. After 30 days your App Store account will be charged a fee of PLN 29.90. Your Premium subscription will be automatically renewed, unless you cancel it at least 24 hours before the end of the current payment period. To cancel your Premium subscription use your App Store account settings. If you've used the free month before, your App Store account will be charged immediately.