7/13/16
The Fast Track series: Communicate with ease
Are you looking for a course that will teach you the basics and prepare you for elementary communication with native speakers? Would you like to learn the right glossary for beginners, and are also interested in studying a bit of grammar? The Fast Track series is tailor-made for you then.
At SuperMemo.com, we now offer the series to learn four languages at the A1-A2 levels according to the Common European Framework of Reference for Languages: Norwegian, Dutch, Swedish and Danish. The courses touch upon everyday subjects such as small talk, introductions, descriptions, work and studies, hobbies, preferences, dislikes, daily routine, finding one's way abroad, transportation, health problems and culture. Each chapter introduces a dialogue or a text, as well as new vocabulary and sentences that will be most useful when you communicate with native speakers in Scandinavia or the Netherlands. This is followed by concise grammar explanations accompanied with a series of simple exercises to put the theory into practice. To wrap up, each lesson is closed with a cultural comment that will make it easier for you to understand various habits and typical behaviour in the countries where the language of your choice is spoken. A standard in SuperMemo courses, all the material has been recorded by native speakers, so that you can listen to their pronunciation, be exposed to the right patterns and with time copy them in your own utterances. All this takes over 2,000 SuperMemo screens, to make sure you have a grasp of basic communication skills in Norwegian, Dutch, Swedish and Danish when you have finished the course.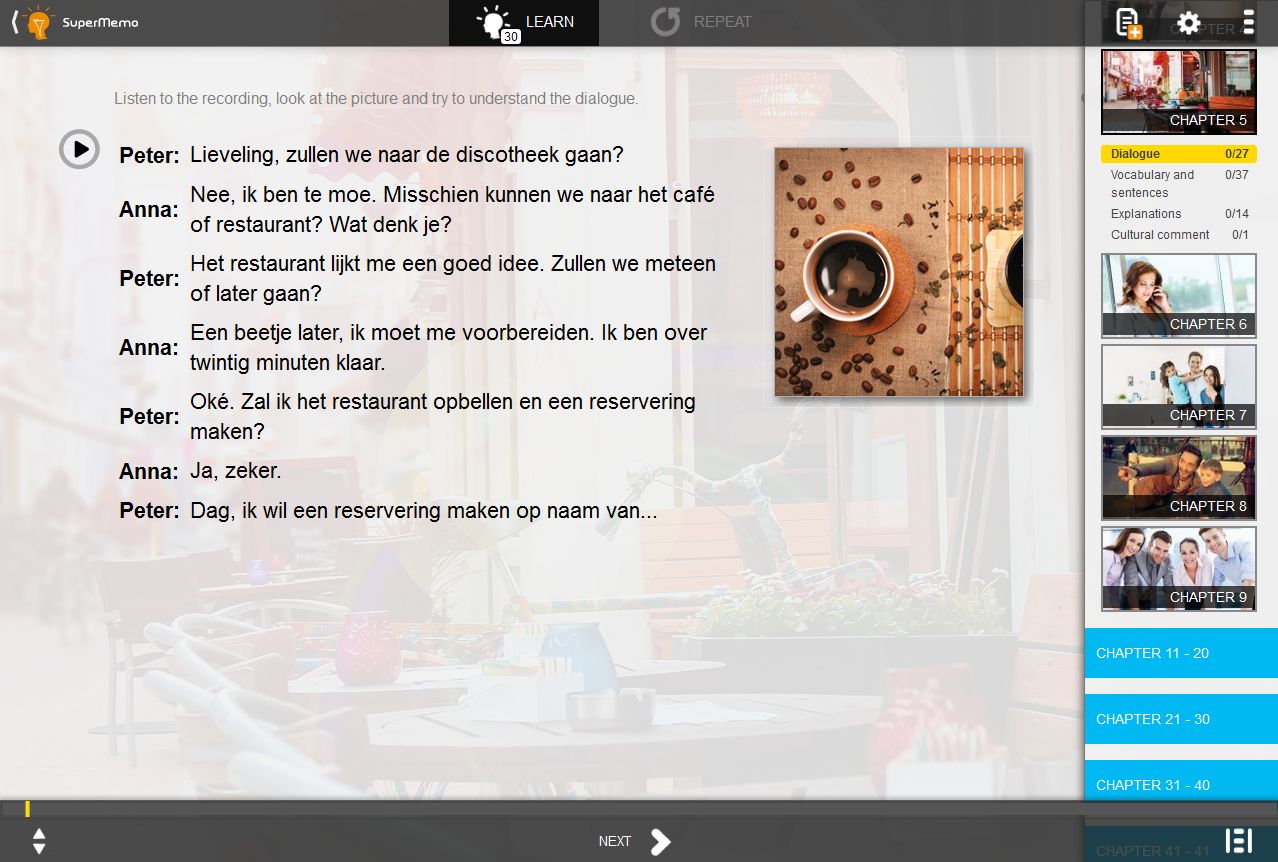 Be prepared for intensive learning; the material is introduced at a fairly fast pace and you will get to know vocabulary from various spheres of life. SuperMemo is here to help you keep the rhythm and be successful at learning Norwegian, Dutch, Swedish or Danish!
Alicja Jankowiak
Editor-in-Chief