1/7/16
Learn Business English the fun way
When your English is already quite polished and you can boast intermediate-level skills, it might be a good moment to try a course focused on vocabulary from a less general, more specialized field. SuperMemo's Business English courses may be an option for you to consider, especially if you use English at work. In the Business English series you will come across an engaging plot and lively dialogues that introduce 1,500 up-to-date business words and expressions, and present them in a meaningful context. Most importantly, you will also encounter 34 film scenes presenting a selection of dialogues from the course. Now learning is easier and more entertaining!
So, you might be asking yourself now what the story is about. Let's have a recap. A young Englishwoman named Alice decides to set up her own company specialising in interior design. With the support of her uncle, a managing director in a large consulting firm, she goes through the successive stages of initiation into the world of business. Alice starts with formulating a business plan, providing customer service for her first clients and employing staff. Then she learns the rules and secrets of advertising campaigns, business ethics, business trips and financial balance. Finally, with the dynamic growth of her company, there comes a time for negotiations and communication in the international arena. The experiences of Alice and people around her are presented through a series of engaging dialogues, which introduce authentic business vocabulary and phrases in their natural context.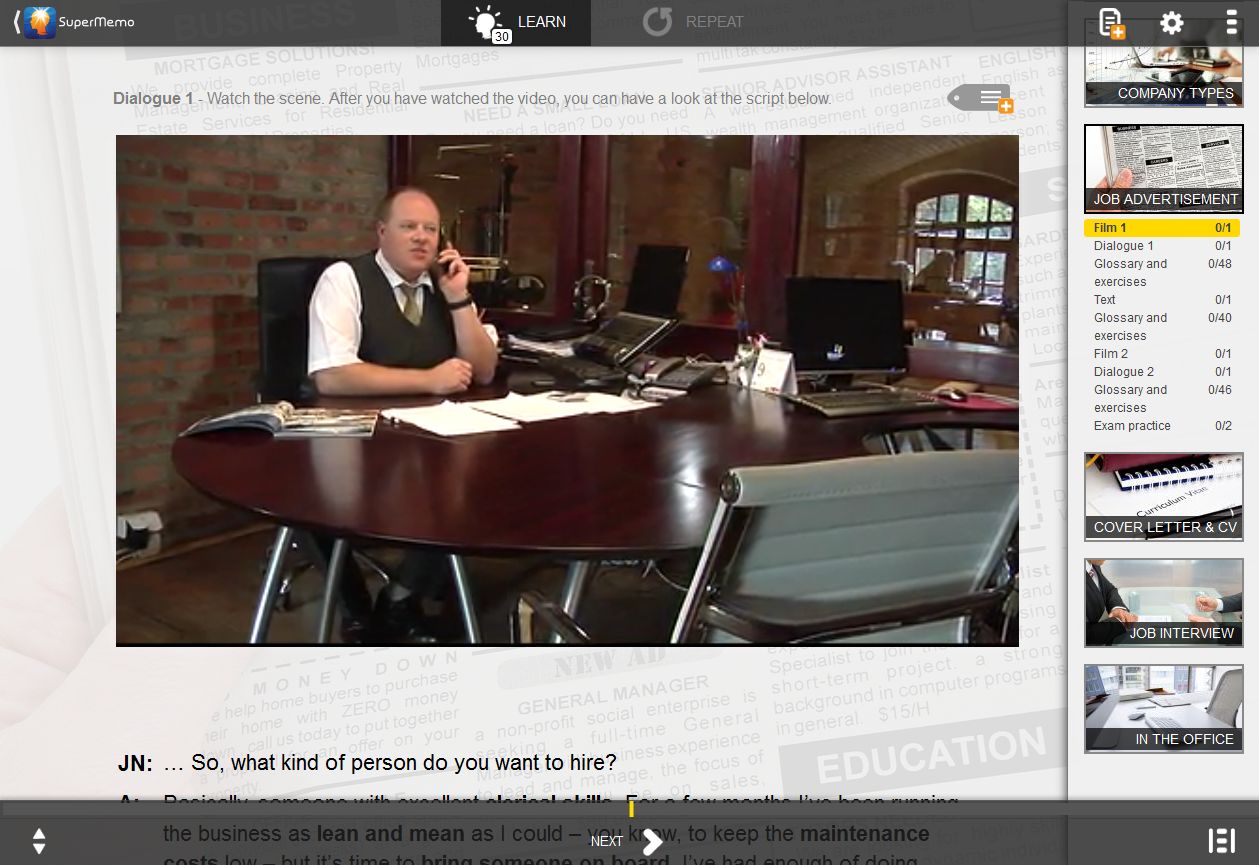 The course is divided into 5 main parts: starting a company, management, marketing and advertising, business communication, negotiations and presentations. Depending on your needs, you may decide to choose a particular topic that you would like to focus on; however, we recommend starting from the beginning, as this way you will see how the story develops and you will be able build your command of useful business vocabulary in a well-planned fashion. Going through the full series is also a good way to expand your vocabulary scope and prepare for the Cambridge English: Business and telc Business English exams. In each chapter, you will find exam tasks that will train you for the real exam and provide with useful sample answers for you to analyse and apply when you speak and write in English.
No time to lose! Master your English and focus on Business English with SuperMemo for great results.
Alicja Jankowiak