SuperMemo News Archive: 1997-2001
See also: News from SuperMemo Library
Dec 13, 2001 - 14 years ago today, the first version of SuperMemo became functional. It was written in Turbo Pascal 3 for the DOS platform. Since then a few dozen of different versions on several platforms have been released, and more are in development. Few of those multiple releases survived. Today you can still run SuperMemo 1.0 in DOS or in MS Dos Prompt window in MS Windows. To get the taste of those early days, you can download this 58K fully-functional freeware file: sm2.zip. Interestingly, the original development tool, Turbo Pascal 3.0 is also available from the Borland Community website:

http://community.borland.com/article/0,1410,20792,00.html

.
The picture below shows how SuperMemo looked back in 1987. The displayed item was extracted from a small Biedalak's GRE collection that ultimately formed sections of Advanced English years later (see Element #19969 in Advanced English 97):

Here are some milestones in developing SuperMemo:

1987 - SuperMemo 1.0 for DOS written by Piotr Wozniak
1991 - SuperMemo World is formed. SuperMemo 6.0 for DOS is its first commercial release
1993 - SuperMemo 7.0 for Windows is a continuation of the DOS line
1995 - SuperMemo enters hypermedia with early releases of SuperMemo 8.0. This line is continued today as SuperMemo 2000 (self-learning) and Multimedia SuperMemo (CD-ROMs)
2000 - SuperMemo goes palmtop (Palm Pilot and Pocket PC versions). SuperMemo 2000 pioneers incremental reading
2001 - Supermemo.net project (originally 3Gems) is the first on-line release of SuperMemo with more projects in development
2002 - SuperMemo continues the main threads of incremental reading and on-line applications
Nov 8, 2001 -

November 2 issue of Science

(registration required) with its opposing articles on the physiology of sleep provides more fuel to the fire of scholastic dispute. At the time when the effort to disentangle details of complex neural optimization process called sleep seemed close to bringing major breakthroughs, there are reputable researchers throwing a spanner in the works. Prominent narcolepsy expert,

Prof. Jerome M. Siegel

from the Center for Sleep Research of the Department of Veterans Affairs analyzed the evidence for the role of sleep and figured out that ... the evidence is scant! An array of well-organized

evidence against the role of sleep in memory consolidation

was rolled out in a journal that for years has stood as the bastion of highest quality science. Siegel acknowledges the vital evolutionary function of sleep but does not show viable alternatives to the position taken by Stickgold and Hobson (see the same issue of Science). Behind all opposing positions in science, there is a root belief or model which is only later enhanced or muddled by existing clutter of evidence. The root of the role of sleep in learning is in the evolutionary explanation of the need to turn off the conscious mind for a third of our lives. Those who oppose the role of sleep in memory consolidation start off with the difficulty in reconciling with the fact that unconscious brain might be involved in learning which seems to require a conscious mind. Some researchers dismiss findings showing the role of sleep in learning as a side effect of stressful methods used in sleep deprivation. Others claim that sleep helps learning by nothing more than "refreshing" the mind and restoring energy reserves. In the welter of data confusing the roles of NREM and REM sleep, procedural and declarative learning, memory consolidation vs. memory optimization, short-term vs. long-term memory, spacing effect vs. forgetting vs. interference, animal and human studies, stressful vs. stressless research methods, there will always be room for the voice of dissent. It will take strong computational and unequivocal experimental models to leave less scope for hair splitting over the role of sleep in learning. Until that happens, you will hear many confusing voices. If it comes to practical conclusions; however, do not wait for the settling of academic disputes. Nobody seriously involved in learning and creativity should have any doubts about the importance of sleep. Take no chances. Avoid the alarm clock! For practical advice see: Good sleep for good learning
Oct 15, 2001 - Human Visual Anatomy is a nice new collection available from SuperMemo Library contributed by Marcin Szatkowski from Poland. With this material you can learn basic anatomy in hours starting with rudimentary distinctions between the nose, the mouth and the eye, gradually going through more advanced material until you learn the locations of the anterior pulmonary plexus, the tensor of fascia lata, or the superficial peroneal nerve. Despite including 500+ illustrated items, this collection is only 2MB in size. The arrows in pictures were produced with transparent image components: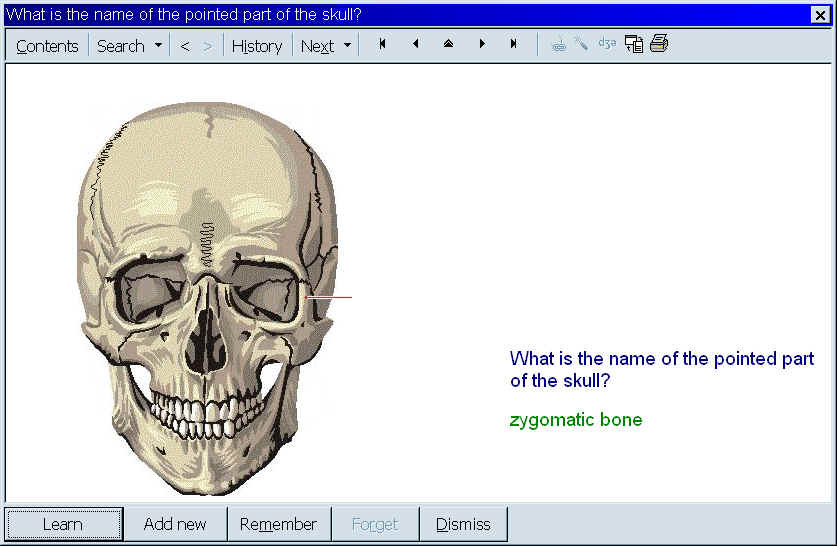 Oct 12, 2001 - SuperMemo World has assumed the status of a limited liability company. The shareholders meeting has elected Marek Hyla (formerly

Internet Investment Fund

) the company new CEO. Marek Hyla, born in 1969, is a management graduate. He is married with three children. Former CEO Krzysztof Biedalak and Marczello Georgiew will form the Supervisory Board. The company will focus on e-learning, Internet, corporate and specialist applications of SuperMemo. Development of SuperMemo on all other platforms will continue unchanged. In particular, SuperMemo for Windows line will not be affected. Multimedia SuperMemo will continue as long as there is demand for new titles on the CD-ROM/DVD market. Increasingly popular SuperMemo 2000 for Windows will continue vigorous development with the focus on self-learning and incremental reading
Sep 14, 2001 - In the wake of terrorist attacks on New York and Washington, the traffic and orders at this website ground to a complete halt. For those few who were able to keep their mind off the tragic events, we prepared a 800-element collection Terror in America. All elements in this free SuperMemo 2000 material are illustrated with snapshots of Tuesday events. The collection was entirely based on materials pasted from news websites and processed with incremental reading. As such, it also illustrates incremental reading techniques. Click here to download (Zip, 2.6 MB). 300-items of this collection are also available in format suitable for SuperMemo 98 (without the incremental reading process) as well as for other platforms (without pictures). For earlier formats see: Terror in America in SuperMemo Library

September 11, 2001 - We wish to express our solidarity with families of victims and all people affected by the terrorist attack in America



Sep 3, 2001 - Surprisingly few people believe that genius and creativity can be trained and developed. This site had to ultimately get involved in the nature-nurture debate. If you look for inspiration in developing your own genius and have enough patience to go through 70 pages of text, read: The Roots of Creativity and Genius. If this article seems too long to bare, note that there is a short summary of the most important points towards the end
Aug 13, 2001 - If you would like to share your learning experience with others, please write to us. We will gladly publish your contributions on this site. Have a look at some precious recent contributions:
Aug 13, 2001 - Neuronal Mechanisms of Memory Formation is a new book on memory research available from Amazon.com. See: our review
Aug 10, 2001 - A user of SuperMemo from Germany, Reinhard K. Koehler, created a splinter Yahoo eGroup for English-speaking users of SuperMemo.

SuperMemo eGroup

has a registered membership of only 17 members today. Unlike the original high-traffic WWBC eGroup, this eGroup is dedicated to SuperMemo and its intent is to trade traffic for quality
July 24, 2001 - The winners of the first best collection competition organized by SuperMemo Library are: Jens Buurgaard Nielsen from Denmark, Mark Zebitz also from Denmark, Vitaliy Vorontsov from Ukraine, and Leonard Budney from the US. See:

Best Collection Competition

July 20, 2001 - The FAQ section of this website has been restructured for easier navigation
June 26, 2001 - We would like to know your opinion about what factors are limiting your creative powers. What do you think is the most important roadblock on your way to being a fully-fledged genius? In the quizlet presented above, we intentionally skipped the genetic factor to focus on this what you can change today or in a not-so-distant future. Here is a short description of choices:

eliminating stress - research shows that stress badly affects your learning abilities. It is also popular knowledge that in stress you cannot focus on problems to solve
getting more sleep - sleep deprivation has similar effects as stress. On one hand it affects the brain physiology and prevents consolidation of long-term memories. On the other, it just simply takes away your energy and enthusiasm that could otherwise make you sparkle with creativity
better self-discipline - we all know it first hand. Even the best plans and golden intentions get nowhere if there is no execution. Lack of self-discipline is an innately human characteristic we all have to overcome
learning more - knowledge is power, but perhaps you do not have enough time or motivation to learn as much as you think you need to?
learning better - perhaps you do invest enough time in learning but your results are not impressive, and you believe that improvement in learning techniques could make a difference
better health - those who had to live with diabetes, epilepsy, hemodialysis, chemotherapy, allergies, headaches and other ailments can testify that a single chronic health problem can often take away the joy of living, let alone the power to continue education and creative efforts
nothing can help me overcome my mental limitations - actually we do not give you such an option in the quizlet above. If this is your belief, you are simply wrong. Your brain is an excellent learning machine full of surprises. Do not stop studying until you discover the source of your error

Please take a few seconds to indicate your choice. You will soon learn more what is our view on the classification of roadblocks that prevent universal genius

June 25, 2001 - In a recent on-line quiz you have indicated that SuperMemo for Windows is still your favorite way of doing SuperMemo. Windows platform beat palmtop devices by a statistically insignificant margin. On-line SuperMemo must probably still wait for more broadband availability as it garnered only 12% of the vote. See: Quizlet results
May 24, 2001 - Research confirms that disrespecting your sleep cycle can shrivel your brain. See a recent article in Nature. To make sure brain-shriveling does not affect you, do not miss this site's Good sleep for good learning
May 24, 2001 - A few updates to portable SuperMemo: SuperMemo CE 2.05 (free update to users of all CE versions), Palm SuperMemo 1.1.1 (free update to users of all Palm versions) and

German version of SuperMemo for Palm Pilot

. See also Build 10.08 of SuperMemo 2000 for users of Windows 2000 (free for users of SuperMemo 2000)
May 10, 2001 - World Wide Brain Club is an interesting Yahoo eGroup whose topics include "Speed/Range reading, Memory techniques, Mnemonics, Number Rhyme SEM cubed Roman Room technique, Dominic O'Brien technique, Mind Maps, The Mind Map Organic Study Technique (MMOST)". Members of the group also posted comments about SuperMemo. Both positive and skeptical. The group is open for subscription via e-mail and includes a searchable archive
Apr 18, 2001 - The greatest cost of supporting SuperMemo 2000 comes from user difficulty in reading the documentation. An analysis of support questions shows that 60-70% of user problems could be solved if the user mastered the basic terminology of SuperMemo: item, topic, element, category, branch, etc. Now, you can download a free collection SuperMemo Glossary from SuperMemo Library. Once you learn this material (80 items), reading the documentation will be a breeze
Apr 13, 2001 - If you still do not know which SuperMemo is right for you, this table should help: Which SuperMemo?
Mar 10, 2001 - Users of SuperMemo 2000 can update free to version 10.07 (see Help : About : Build for your current version number). This update is recommended. To update free write to support(AT)supermemo(.)com
Feb 20, 2001 - SuperMemo CE has been selected by editors of

Pocket PC Magazine

as a hot download:

Feb 9, 2001 - In the future, SuperMemo will live on the net. Today you can have a taste of things to come by having a free beta trial of on-line SuperMemo developed as the supermemo.net project:
Feb 6, 2001 - The most popular application of SuperMemo is ... learning English. Within a few years, two users of SuperMemo in Poland perfected their English to a degree when they concluded that promoting English and their own learning methods could be a great idea for their own business. See their site: www.antimoon.com where one of the authors writes: "In February 1995, I finally started my first SuperMemo collection with English vocabulary. It was a breakthrough for me..." (see more)
Jan 19, 2001 - With the new concept of incremental reading, SuperMemo 2000 has entirely revised the optimum learning strategy. In this sense, SuperMemo 2000 may be the most important release of SuperMemo since its early versions based on spaced repetition. For a detailed analysis of the new learning strategy, see: Devouring knowledge
Jan 11, 2001 - If you wait to see SuperMemo for Linux, you may want to know that Linux isn't entirely closed to SuperMemo. Courtesy of Robert Osowiecki from Poland, you can find out how you can use SuperMemo in Linux (see also:

original text in Polish

). Please note that we also hope to port a subset of SuperMemo 2000 to Linux using Borland's Kylix as well as to start an independent open source product for Linux
Jan 1, 2001 - We often hear complaints that many articles on this website use a language that is too hermetic. Many of our visitors use English as their second language. We decided to experiment with Simplified English. For starters, we present the most popular article of this website: Six steps to excellent memory. The presented version uses simplified English and should be easier to read and understand. Please send your comments. If you believe this texts is helpful, let us know which texts are most difficult or important to convert to simplified English
Dec 9, 2000 - New releases from SuperMemo World:
Nov 30, 2000 - SuperMemo 2000 is the 10th major release of SuperMemo in the DOS/Windows line. This line was started 13 years ago (4 years before SuperMemo World company was formed). Recently a separate multimedia line has branched off SuperMemo for Windows. This freed SuperMemo 2000 from the ballast of CD-ROM-related enhancements. This is excellent news for users interested primarily in self-instruction and self-improvement. SuperMemo 2000 does not bring much change on the multimedia platform; however, it brings new breakthrough features that should delight users who are still not satisfied with what SuperMemo 99 brings to the speed of learning. Most importantly SuperMemo 2000 introduces the concept of incremental reading. Incremental reading makes it possible to read thousands of electronic articles at the same time and gradually introduce knowledge into the high-retention learning process. Combined with Internet resources, SuperMemo 2000 provides a new and unique opportunity for massive learning in which knowledge available from the Internet is streamed into student's memory for an optimum balance between understanding and retention. Read more about SuperMemo 2000:

Incremental reading - breakthrough simultaneous reading technique. Even though the speed of acquiring new knowledge may surprise you, incremental reading bears no relevance to speed-reading. Speed-reading is focused on reading more passages per minute (often at the cost of comprehension). Incremental reading is focused on simultaneous reading of many articles, enhanced understanding, enhanced retention and meticulous prioritization

Nov 26, 2000 - SuperMemo Library has released an updated set of medical biology collections that might prove valuable to students of biosciences (incl. anatomy, biochemistry, cell biology, endocrinology, general medicine, genetics, immunology, neuroscience, physiology and more). These collection can be ordered as Medical Biology Mix or separately in

custom mixes

. Fore more, see:

Library News

Oct 9, 2000 -

Dr Eric Kandel wins long-deserved Nobel Prize in Medicine

. Dr Kandel's research has been an inspiration to molecular models of memory based on the two-component model of long-term memory that strongly overlaps with the theory of spaced repetition that underlies SuperMemo. Dr Kandel, University Professor of Physiology and Cell Biophysics, Psychiatry, Biochemistry and Molecular Biophysics at Columbia University, shared the prize with Arvid Carlsson of the University of Goteborg, Sweden and Paul Greengard of The Rockefeller University, New York. All three scientists have been recognized for their lasting contributions to the field of neuroscience. Kandel leaped eons by drawing parallels between memory and the physiology of a marine slug Aplysia. His bright reliance on evolutionary conservation mechanisms, allowed him to study a few-cell nervous system of a primitive animal to draw groundbreaking conclusions on the working of the human brain. To understand the mechanisms of memory and the relationship between Kandel's research and SuperMemo read: Forget about forgetting
Sep 23, 2000 - Since the early days of SuperMemo in the late 1980s, it was ported to all major platforms in existence. As platforms come and go, so do the various versions of the program. Only the immortal DOS/Windows line does not seem ready for demise. Last year we witnessed new SuperMemo releases for palmtop devices. Today the pressure is increasing for the Linux version. A mobile phone solution is underway. To better chart the course, we would like to hear your opinions

Here are the options listed in the quiz:

Windows desktop application: we plan to continue two lines of SuperMemo for Windows: (1) successors of SuperMemo 99 with the focus on elite self-learning and (2) Multimedia SuperMemo derived from the same core code and targeted on large-circulation multimedia CD-ROM/DVD releases
Linux desktop application: chances are that SuperMemo for Windows will beat other non-commercial SuperMemo for Linux projects by being ported to Linux. New Delphi-based tool suite from Borland codenamed Kylix is the first rapid development environment to support both Windows and Linux. Delphi is the sole development platform for the current lines of SuperMemo for Windows
Palmtop application: SuperMemo for Windows CE and SuperMemo for PalmPilot are excellent examples of a paradigm shift. Desktop applications are unsurpassed in terms of functionality for a high-end user. However, nothing can work as a substitute for a mobile SuperMemo that accompanies a student cruising between classrooms and libraries
Server-based browser application: all applications will sooner or later drift towards thin-client distributed computing. With an on-line SuperMemo, you can keep your data on the server and access your learning process from anywhere in the world using an Internet browser. On-line SuperMemo will provide unimaginable tools for global knowledge sharing and collective learning analysis
Mobile phones: WAP protocol provides a way to marry server-based learning with mobile palmtop or wearable devices. A mobile phone SuperMemo will be yet simpler than its palmtop relatives; however, it will provide additional server-based services such as transparent knowledge updates: I am sorry Madam, the guy opposite you ain't focused on your charms. He's just staring at his SuperMemo review splashed against his eyeglasses!

Sep 22, 2000 - What is the best strategy for overcoming tiredness in learning? See what visitors to this site had to say and what is our position: Quiz: Tiredness in Learning
Aug 3, 2000 - One more reason to stay friends with SuperMemo for life:

Education May Protect Against Alzheimer's Disease and Other Forms of Dementia

Jul 29, 2000 - Most people use an alarm clock to get up from bed at the 'right' time. Few realize that sleep deprivation may be one of the worst enemies of effective learning. Scientific research indicates that even moderate cut in the length of sleep may have a dramatic negative impact on some forms of learning and memory consolidation. If you would like to go beyond the explanations presented in Good sleep, good learning, good life, you can extend and solidify your understanding of sleep with Neurophysiology of Sleep from SuperMemo Library
Jul 22, 2000 - Free running sleep is a concept that may help you sleep better and learn more as explained in: Good sleep, good learning, good life
Jul 20, 2000 - SuperMemo Deutsch Kompakt CD-ROM won the highest score in a review of language applications for children conducted by Komputer Swiat, Poland.

This award is particularly precious due to the fact that SuperMemo is rarely perceived as an authoring tool suitable for developing applications for children. The authors from SuperMemo World and WSiP (Polish educational publishers) have skillfully hidden the complexities of SuperMemo's authoring shell behind entertaining and easy-to-use content derived from the Deutsch Global book series for primary schools. Deutsch Kompakt outdistanced publications by other reputable publishers such as DD Komputery, Albion, Edgar Multimedia, WSiP SA, and Vulcan Media
Jul 13, 2000 - With the advent of SuperMemo CE and SuperMemo for Palm Pilot, SuperMemo is getting increasingly mobile. Yet nothing gets more mobile than SuperMemo on a mobile phone. SuperMemo World s.c. and

Internet Investment Fund

, Poland, have recently signed an agreement on the development of a system for mobile learning:

3GEMS

that will soon see its first implementation on the WAP platform.
Jul 1, 2000 - SuperMemo CE 1.2 is free for users of SuperMemo CE 1.0
Jun 29, 2000 - In the future, there will be two families of SuperMemo for Windows! For years we have heard that SuperMemo for Windows should be split into two components: authoring shell for hypermedia applications and a cheap learning application. We have opposed that solution for two reasons: (1) we always wanted to encourage users to use authoring options to develop better learning material, and (2) it is cheaper to keep one application, one code, and one development cycle. However, increasing popularity of stand-alone SuperMemo (e.g. as available for download from this site) has called for more self-improvement options for stand-alone users and less complexity coming from hypermedia authoring. At the same time, the multimedia CD-ROM market calls for much higher standards of users interface, user-friendliness, simplicity, and minimum high-flying options that obscure the focus on the learning material. Consequently, we have decided to branch off a new line of SuperMemo for Windows called Multimedia SuperMemo. At the same time, the current line of stand-alone SuperMemo for Windows will continue to support high-end customers with focus on self-improvement. Both lines will be developed independently and will support the current core data formats used by SuperMemo for Windows.

Future families of SuperMemo for Windows:

SuperMemo for Windows - continuation of SuperMemo 99 for Windows, focus on self-learning, self-improvement, electronic reading, time-management, tasklists, planning, knowledge management, Internet, and creativity
Multimedia SuperMemo - stripped down SuperMemo 99 (without reading lists, tasklists, schedule planning, etc.), focus on hypermedia authoring, user interface, CD-ROM and DVD releases, simplicity, advanced testing procedures, automated student testing, massive partwork authoring, internationalization, hypermedia data formats, etc.

Jun 17, 2000 - We would like to send collective thanks to all customers who evaluated our service at SuperMemo Store. Thanks to your support, Yahoo Shopping has granted the top service badge to our store. Although we have always boasted of 100% approval rate, the relatively low volume of sales and evaluations submitted prevented us from reaching this exclusive badge of honor. Currently all channels distributing SuperMemo via Yahoo Shopping are in the top service rank:

May 23, 2000 - There is nothing wrong with getting tired of learning. Natural neurohormonal mechanisms will call for a break after a few hours of intellectual work. Only a great enthusiasm and passion can override tiredness. Yet, enthusiasm and passion are also based on hormonal response and may not be welcome in the long run! If you surf the net till wee hours, spend whole evenings reading a fascinating novel or playing your favorite videogame, or if you belong to the coke-driven hacker community, you may know little of mental tiredness. However, the late-night excitement is actually a form of stress that may be damaging to your health and to your intellectual performance in a longer perspective. In other words, getting tired of mental effort is natural and should not be a reason for worry. Hence our new quiz: "Best break from learning".

SuperMemo is likely to belong to your pet mental aversions if you do not follow the rules! By driving your memory to the edge, SuperMemo is a natural "brain-waster". Few people can efficiently go beyond 60 minutes with the program! It is possible to go well beyond that; however, a creative individual will always ask for a balance between: production and production capacity (Stephen R. Covey's P/PC). In other words, you should always try to strike an optimum balance between learning and using its results for creative purposes (rather than practicing learning for the learning sake).
If you dislike your time with SuperMemo, if SuperMemo makes you tired, if it cannot spark the tiniest learning passion, go again through this checklist:

If you are not happy with your results, one of the points above will check negative! Learning cannot be a drag. It should be a pleasurable and creative activity unobtrusively blending with your daily schedule


Apr 21, 2000 - Future versions of SuperMemo will make it possible to export the collection contents to HTML format directly publishable on the web.

Here are some benefits of exporting collections to HTML:

authors will be able to provide a preview of their collections on the web
authors will be able to attract search engine traffic from people interested in their specific learning material
collection content will also be beneficial for those who do not use SuperMemo
there shall be no web-or-SuperMemo dilemma for home-based multimedia authors (see comment below)

Exemplary collections in HTML format, This and that on History and WinRoute 4.0 Professional have now been published by SuperMemo Library

Web or SuperMemo dilemma: Exhibitionism is part of human nature that shows strongly in a large proportion of the population. Exhibitionism is a powerful driving force that makes it now easy to peek into people's very intimate affairs on the web. Exhibitionism also used to drive some users of SuperMemo! They would play with the program's multimedia features without making much use of the learning tools. Those users would often publish or submit their material for review and further dissemination. It wasn't their intent to make others use their collections for learning. The main motivation was exhibitionist: Please, have a look at my work! Over the years, we have received a cubic meter of diskettes jam-packed with exhibitionist material that unfortunately could not be distributed as learning material (some examples are included in SuperMemo MegaMix). Yet this exhibitionist trend seems to have waned. SuperMemo as an authoring toy has got a goliath competitor: the web. Why compile multimedia material for a limited circle of users of SuperMemo, while publishing on the web provides instant gratification in the form of multimillion audience (even if the hit counter does not seem to ever go beyond the first hundred). We hope that new HTML export features will be received with satisfaction by those who just like to share their work with others


Mar 27, 2000 - SuperMemo should not add to your clock-programming frenzy at the onset of Daylight Saving Time. If you happen to welcome the spring with repetitions made after midnight, use Tools : Options : Learning : Midnight clock shift and add a couple of hours to your day. Did you know that DST makes it possible to save 1% of energy? For the whole economy this is a

huge number

! It also helps reduce crime and accidents. At the same time it costs you untold pain of missed appointments, reprogramming your VCR, faxes, switchboards, etc. It also results in a 7% increase in accidents due to missed sleep at the time of switching the clock. Some propose to end this ancient habit. Here is some

educated ridicule of DST

by

Prof. Marvin Chester

Mar 23, 2000 - Over the years, SuperMemo has gained thousands of enthusiastic users. However, it has also built a misconceived reputation for being a program for learning languages. Nearly 90% of users use the program for memorizing the vocabulary of English, German, French, and other languages. Flow of knowledge in SuperMemo is an article dedicated to middle-level and advanced users of SuperMemo. It is intended as an encouragement to venture beyond language-related areas
Mar 15, 2000 - Since 1993, SuperMemo has been most successful on the Windows platform. This may be about to change! Currently, the newly released SuperMemo for Palm Pilot is easily outselling Windows versions in the stand-alone niche on the Internet. The key to the Palm version's success: mobility & simplicity. See what new users of Palm SuperMemo have to say: SuperMemo for Palm Pilot Accolades
Mar 6, 2000 - The newly released

SuperMemo 1.0 for Palm Pilot

has become an overnight success!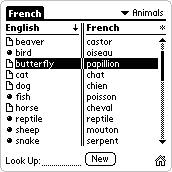 it has been selected as a featured home-page product by the editors of Palm Gear HQ
it is currently the main feature in the

educational section at Handspring

with nearly a thousand downloads in the first 24 hours since the release, it reached the exclusive top 10 on the

PGHQ monthly top 50 list

the first 5-star customer review at Palm Gear Headquarters: This program is Awesome!! I've been a beta tester for this software for awhile and have been actively been using it to help me study for my MCSE exams. I wish I would have had this program back in high school! (I could have taken a few more foreign language classes). The program works as advertised and the developers are great when it comes to suggestions on how to improve the software. Keep these cool programs coming! (Rick Bailey)
Feb 29, 2000 - Users of freeware SuperMemo 6 for DOS and SuperMemo 7 for Windows should know that there is a patch that eliminates y2k-related upgrade problems: Millennium Bug in SuperMemo
Feb 25, 2000 - Here are two user contributions received in response to SuperMemo is Useless:

Luis Gustavo Neves da Silva from Brazil contributed It is more than just memorizing
A user from the US has contributed, on conditions of anonymity, How I got a job at #1 software company

Feb 12, 2000 - Continuing SuperMemo is Useless series, here is a controversial user contribution No force in the world can convince me to SuperMemo!
Feb 4, 2000 - Despite a decade-long effort, users of SuperMemo (and spaced repetition in general) still form a negligible proportion of those with access to computer technology. We have taken a critical look at the underlying reasons in: SuperMemo is useless!
Jan 24, 2000 - SuperMemo for Pocket PC is only four months old. Yet watchful editors of Mobility -- a mobile computing monthly in Czech Republic -- did not miss the release. Mobility has granted their

Real Mobility Award

to SuperMemo CE for "high use value"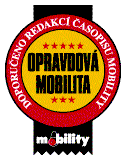 Jan 21, 2000 - Some new features in SuperMemo 99 update (free for users of SuperMemo 99):

fixed Y2K bug in Import : Learning process
Export file in registries
file overwrite in registries
Ctrl+Alt+L for branch learning in the contents window
multiple-choice test import from a text file with Import : MCT text (this option has been implement on the personal request of the Polish twice Prime Minister Waldemar Pawlak!)

Jan 1, 2000 - Despite widespread Y2K fears, the new millennium began quietly for SuperMemo
Dec 13, 1999 - This week a new interesting website opened at

www.memoryaid.com

. You will find here lots of interesting articles and links in reference to memory and learning: FAQs, hints&tips, book reviews, software reviews, links to other sites, and more
Nov 23, 1999 - SuperMemo has been nominated to the title of the Product of the Decade!

There are four nominations selected by the journalists of a popular Polish computer journal PC Kurier. In their verdict the jury wrote: It is a pleasure to see Polish products such as Pajaczek or SuperMemo reach the leading ranks in the world in their software class:

SuperMemo - for its effectiveness, technical novelty and consistent development of the product line
MKS_Vir - the most popular Polish anti-virus software that has effectively competed with western products for over a decade now (and is still holding strong)

EuroPlus+

- the most popular English-teaching CD-ROM whose sales in Poland reached several million dollars
Pajaczek - the most popular Polish HTML editor written by one of the most talented young programmers in this country: Rafal Platek

Nov 16, 1999 - If SuperMemo was a tool for everyone, it should have spread as fast as Internet browsers. Clearly it is not! Many of our customers do not have patience or persistence to use it. Yet for the most faithful, it has become a permanent part of their lives. The praise we keep hearing again and again is truly rewarding (thank you!): wonderful, incredible, excellent, fantastic, revolutionary, awesome, best in the world, quantum leap, God-sent, miraculous, addictive, new standard, WOW!
Courtesy of a group of faithful user, we have compiled some comments collected from mail arriving daily at SuperMemo World. See: User comments about SuperMemo
Nov 2, 1999 - In October, traffic at this website doubled. SuperMemo Library has now been moved to a new website (please update your bookmarks). Library will now gain additional 40MB available for freeware downloads in addition to commercial material available from SuperMemo Store
Oct 28, 1999 - Your questionnaires indicate that you would like to see more freeware collections in SuperMemo Library. Do not miss this week's Astronomy freeware for SuperMemo 98/99 with a model visual planet recognition test. This collection is an intelligent man's must. There are also some new freeware collections available for

SuperMemo CE

(e.g. Basic Portuguese)

Astronomy freeware - visual planet recognition test
Mathematics (Tests) freeware - cone terminology; drag&drop exercise

Sign Language freeware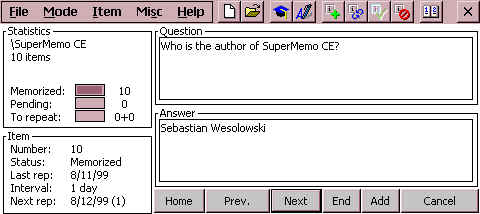 Aug 5, 1999 - Do you know what SuperMemo has always been most criticized for over the years? User interface! This criticism dates back to the days when SuperMemo World did not even exist! Here is a short summary of the interface problem in SuperMemo:

SuperMemo 1.0 written in 1987 was a very simple application that did not conform with the increasingly popular DOS interface standards such as pull-down menus and overlapping windows. In response to the criticism of users of this early version (just a few dozen of them!), SuperMemo 3.0 was written just a year later
In 1991, SuperMemo 6.0 for DOS was the first commercial application released by SuperMemo World. This may sound impossible today but ... SuperMemo 6 did not have a mouse support! Although at that time Windows was not yet all the hype it is today, an increasing number of PC users got accustomed to a new pointing device: the mouse. For those, SuperMemo 6 was a real pain!
When SuperMemo 7.0 for Windows came to light in 1993, it was unanimously voted the buggiest and ugliest SuperMemo ever! Less than two years later, SuperMemo 7 was voted the most popular application in Poland. The popularity came through painstaking incremental improvement and careful attention to user suggestions
In 1995, first pre-release versions of SuperMemo 8 were distributed under the codename Genius 1.0. Again users hated the change and pointed to a zillion of interface design inconsistencies. Again the SuperMemo 8 line has skyrocketed in popularity just three years later with the number of copies in use approaching 1 million!

Do you think the interface battle is over? Far from it! SuperMemo interface remains the single most often criticized feature of SuperMemo. If you would like to join the discussion and influence the future designs, please read Screen design guidelines: lessons learned with SuperMemo 98 by Filip Kierzek from the University of Technology in Poznan

July 5, 1999 - On the 8-th anniversary of SuperMemo World, 1,000,000-th CD-ROM with SuperMemo was manufactured (exactly five years after the first SuperMemo CDR was burnt). This number does not include CDs produced by our partners abroad and also misses a number of freeware releases by third parties (there have been four major lines released as freeware starting with SuperMemo 2.s in 1991). We also have little control over the release of SuperMemo via franchising, replication licensing and educational promotion programs. The statistic also does not include CD-ROMs based on the SuperMemo DLL but not including the program itself (such as Tests in Mathematics by

Vulcan Media

). Incidentally, at about the same time, 1000th order for SuperMemo arrived via SuperMemo Store and the initially tiny proportion of sales via the Internet is growing steadily
June 1, 1999 - SuperMemo World signed a contract with Digital River, Inc. (NASDAQ: DRIV) on distribution of its educational software and learning material via Digital River channels. Digital River is the greatest ESD company on the web with 1400 outlets. ESD (Electronic Software Delivery) has been pioneered by Digital River that owns a number of patents on this unique technology. Customers of Digital River include Corel, Adobe, Symantec, IBM and many more
May 17, 1999 - The new release of SuperMemo Library includes many features requested by users of SuperMemo: browsing alphabetically and by category, user review, bug reporting, downloads in varying formats, visual popularity charts, new links to other websites with learning material for SuperMemo, separate FAQs for users and for developers
May 10, 1999 - After years of struggling with copyright issues, SuperMemo World has finally released SuperMemo MegaMix CD-ROMs with 319 collections written by users of SuperMemo. All registered users of SuperMemo are now entitled to a $33 upgrade (limited-time offer!)
Apr 26, 1999 - 300,000 copies of Easy English CD-ROM with SuperMemo 98 hit newsstands in Poland today. This is the largest SuperMemo release ever, and the beginning of a new strategy for massive conquest of the multimedia educational market. A series of 20 Easy English CD-ROMs will follow monthly fortified by a TV advertising campaign run by AmerCom Ltd. (the holder of copyrights to the original Easy English material). Users in Poland can read more about Easy English from a new Easy English website (in Polish). This site is exclusively dedicated to supporting Easy English subscribers
Apr 9, 1999 - E-commerce collection currently available from SuperMemo Library is a noteworthy material for those who intend to set up a commercial website. We have collected this material for our own use to increase the proportion of revenue derived from selling SuperMemo via this and syndicated websites
Mar 1, 1999 - Over the last four years, nothing has changed in the world of SuperMemo except for ... the Internet! See the results of our Survey 1999. Check out the winners of our questionnaire competition
Feb 26, 1999 - In our little quiz, 70% of you stated that SuperMemo is more important for you than your word processor! This does not spell a SuperMemo revolution worldwide yet. Most of quiz participants are die-hard users of SuperMemo. Hardly a representative sample
Feb 20, 1999 - Are you having an impression that you are getting nowhere with SuperMemo? Regular work may not always suffice! The most frequent reason for this is ... inadequate experience in formulating knowledge. This article should help: 20 rules of formulating knowledge in learning
Feb 8, 1999 - Many of you have requested an overview article on the concept of the forgetting index: what is the exact meaning, use and the significance. What is the best forgetting index for me? How does it affect the speed of learning. This is a recommended reading for every user of SuperMemo: Forgetting Index
Jan 20, 1999 - E-commerce is good news for SuperMemo
Dec 12, 1998 - We are looking for beta-testers of SuperMemo CE. For details see: SuperMemo for Pocket PC (FAQ). SuperMemo CE 1.0 is a simple mutation of SuperMemo intended to run on Windows CE computers. It is equivalent to SuperMemo 98 in the beginner mode and shall be the first ever digital SuperMemo that would fit in a pocket! For those who travel a lot, this might be best SuperMemo ever!
Dec 1, 1998 - For the first time, SuperMemo appears on DVD. This time yet as part of the best-selling Polish Multimedia Encyclopedia (PWN, 1999 Edition). This is the first DVD release in Poland
Nov 27, 1998 - Borland International regularly produces case studies for successful applications developed with Borland tools. Here is what they write about SuperMemo 98 at their corporate website:

Delphi Case Study: SuperMemo 98

. The same article is available in Polish from

Borland Poland

Nov 18, 1998 -

Tax Advisor Test

with SuperMemo is a new CD-ROM release from SuperMemo World targeted on niche markets in Poland. Following the

Driver's License tests

CD-ROM, this is yet another attempt to monopolize standardized tests niches in Poland. Tax Advisor Test is officially used for training at Arthur Andersen
Nov 15, 1998 - Selling at nearly 40 packages per day (exclusively in Poland),

Traffic Regulations

have surpassed Advanced English as the best-selling SuperMemo CD-ROM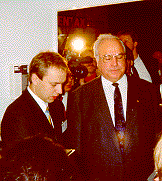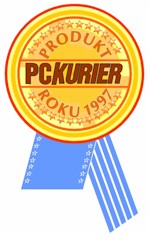 Jan 3, 1998 - Have you thought that SuperMemo would work best by using neural networks? Perhaps you won't have to keep guessing. See: Neural Network SuperMemo
Dec 31, 1997 - Two components of long-term memory by Wozniak, Gorzelanczyk and Murakowski is now available from this site
Nov 15, 1997 - Advanced English 97 is released!
If you seriously think about learning English, you must use Advanced English 97!
Nov 6, 1997 - SuperMemo World established a highly autonomous SuperMemo Research&Development Department that will be headed by Dr Piotr Wozniak, the author of the SuperMemo method. Dr Wozniak will now be released from his duties as President and CEO. His place will be taken by Krzysztof Biedalak, MSc, cofounder of SuperMemo World. SuperMemo Research will focus on investigating Internet applications of the SuperMemo method
Oct 29, 1997 - Readers of Chip and PC Kurier in Poland have recently had a chance to learn more about SuperMemo 8 and Advanced English 97 (including a demo of Advanced English 97 on Chip's CD 11/97). PC Kurier's Pawel Wimmer in the article Back to the future wrote: "I immediately got to like SuperMemo 8 due to its elastic structure that makes it possible to easily intertwine hypertext, video, pictures, sound, etc.". Chip's Marek Wrobel in the article Like wine wrote: "Continuing its winning streak, SuperMemo World offers a mature product full of valuable innovations"
Oct 22, 1997 - Subset of Advanced English 97 is now available on cover CD-ROM of Polish Chip Magazine (CD 11/97; circulation: 200,000)
Sep 30 - Oct 3, 1997 - Advanced English 97 is presented at Softarg software fair in Poland
Jul 10, 1997 - SuperMemo World signs an agreement with Wydawnictwa Szkolne PWN on releasing the first joint product based on SuperMemo 8: Testy z biologii based on a V-volume publication by Wydawnictwo Naukowe PWN under the same name. This is a multiple-choice test material designed for secondary school students intending to study biology, medicine, agriculture or related subjects
Jun 12, 1997 - You can now download SuperMemo 8 from this site. This is the first ever commercial SuperMemo available for download directly from the Internet
May 11, 1997 - Excerpts from Economic of Learning are now available on this site
Apr 3, 1997 - SuperMemo is featured at Mind Media site (section Brain Boosting and Mental Fitness)
Mar 14, 1997 -

PC Kurier

, Poland, describes SuperMemo Web Site in its Interesting Web Sites column
Mar 6, 1997 - SuperMemo algorithm in a DLL is available from this site
Mar 3, 1997 - SuperMemo World signs a contract with Wydawnictwa Szkolne i Pedagogiczne on releasing a hypermedia course of German Deutsch Global with SuperMemo 8
Mar 1, 199