"All are but parts of one stupendous whole". Alexander Pope, (1688-1744)
Content:
This article is but a momentary snapshot of work in progress. A process that will tomorrow, with new ideas and knowledge move to a new level. An approach seeking freshness, sprinkled with humour and colour. I have an innate knowing, - 'the best has yet to come'.
The roles of parent and home-educator have with the passage of time become so intrinsically inseparable. I do not have any previous teaching or child care experience. Nor do I have a university education, having vacated the environs of formal education at the age of fourteen. I am, however, fortunate to have prolonged and varied opportunities for own-child-watching. A parent in touch with the children for most of the day. I have two children, my eleven-year-old son and my eight-year-old daughter.
It is I feel important to note that living on a low income as we do, puts constraints on our accessibility to materials, courses and comforts that would otherwise enhance quality learning. This frugal living has its frustrations, but none the less it does not dampen our resolve or commitment. In tests, the children score regularly in the nineties, exude in confidence, they are happy and above all they have the joys of childhood.
Fortunately, SuperMemo is affordable, excellent value when one considers its total potential in learning/remembering. I shall in the course of this article demonstrate that with careful thought, sacrifice, commitment and SuperMemo, one can, against the odds, - achieve.
In Sweden … the church Law of 1686 had made reading competence mandatory for marriage and participation in church ceremonies, such as the Last Supper. The parish priest examined all adults regularly, usually once a year, with regard to literacy and mastery of the scriptures.
The literacy campaign was launched almost entirely without resort to formal schooling. In the last analysis the parents had the responsibility of seeing that the children learned to read, and the parents were controlled by the clergy. The overall majority had achieved literacy in reading long before provisions for elementary schooling were made compulsory by legislation. Still some 25-30 years later about one-fifth to one-third of all children were taught at home, and children who entered elementary school were expected to have acquired some basic reading skills at home. Almost universal competence in reading can be achieved, given adequate motivation, in a pre-industrial society without formal schooling. [1]
Our children have been exposed to books since the moment they were born. Mother's role was paramount, particularly at the beginning whilst nurturing the infants. The mother infant bonding. It was her deliberate intention that the children be exposed to books from the very outset. This reading having an intimate contact with their brains, the seed of their creative and imaginative free spirit. Today they are both voracious readers.
When their hands were strong enough and more so when they were able to sit in a chair, they had books to handle and explore. They visited (and still do) the public library every week from a very young age. Their graduation to solo reading was effortless; this no doubt would have had a memory component, having heard the stories repeated so many times. Another beneficial aid was the repeated listening to nursery rhymes, songs and music on cassette tapes.
Their reading material varies greatly from food labelling, flyers, magazines, newspapers, books, articles from CD-ROM encyclopaedias and the net. Articles from encyclopaedias and the net are imported into SuperMemo. The subject matter has no boundaries, literally everything. There is no requirement for a reading schedule.
I would have no doubt that voraciousness in the child can be reproduced (concurring with [1] above). The responsibility for this would be initially with the parent. From infancy the parent must read in an animated style, many times the same stories, whilst at the same time seeking out new material. In my experience the absence of television, computer and video games was a major contributor to their voraciousness.
Interestingly, according to new research children are losing the ability to play properly because they are being given too many toys and games, The studies show that children - especially those under five - are often overwhelmed and actually play less than those with fewer toys. It may even harm their development. Most exclude books from this rule because of research linking reading with improved academic performance and self-esteem. "The more books the better." There is some disquiet that playing on computers and electronic games can restrict children's development because they take away the need for creativity and imagination - and these are the essence of childhood.[2]
Classical music has been the centre point from which our lives revolve since our son commenced studying the violin at the age of four-and-a-half. At the age of five he gave his first public performance. In his most recent assessment report he was described as playing with "lots of expressiveness and style, a strong powerful sound and having a very good feel for the instrument and music".
At the age of about seven he made the serious decision to pursue a career as a solo violinist. He possesses a rage to master, very committed, disciplined and determined to fulfill this ambition. I would not be cognizant as to how and why at this young age he made such a choice, it is difficult to analyze. There is no musical background in the family; in fact our first intimate contact with classical music was from this period. And we live in a region where the culture is predominated by traditional and folk music. One significant factor I would say is that we as parents have always been fully supportive of our children's ambitions and dreams. I would like to think that we provide an environment that allows the child to explore and play without any restraints. Trying new approaches, exposing the children to different ideas and people – placing them upon the shoulders of giants (metaphorically speaking). I believe, personally, that every child possesses the facility to be a success in their own individual chosen field of interest. But like every man, woman or child, they require support and affirmation.
What children need from parents - and parents from themselves are: unconditional love; acceptance; physical holding; nurturing; praise of effort; affirmation of uniqueness; listening; time; challenge; positive talk; kindness; support; humour, positive firmness; advice on request; compassion; belief in; emotional responsiveness; emotional expression; encouragement; fairness and apology when wrong.[3]
Coached at home, our daughter, at the age of six won an honours certificate from the London College of Music for recorder. Scoring ninety-seven percent, the highest score for her group. She was competing with children up to the age of ten. Our son in his recent examinations (May 2001) won a scholarship with distinction for violin and passed his musicianship examination with distinction.
The exposure to classical music has stimulated their intellects and opened the doors to many other areas of interest. An appreciation and love for geography, art, languages, travel, architecture and broadcasting as an example.
In May 2001 my son was one of five finalists in a young classical music radio presenter competition. He was the youngest of the five, and he won second overall; the overall winner being sixteen years old. The producer of the programme credited him as being highly confident and very intelligent.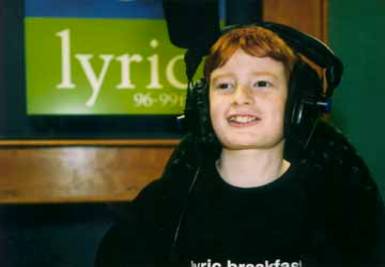 As well as co-presenting live to the nation and live on the web he will, as part of his prize be presenting a live concert with The Concert Orchestra at the National Concert Hall, Dublin.
In Ireland one is fortunate to have the right to home-educate ones children enshrined in the constitution. Article 42 states:
The State acknowledges that the primary and natural educator of the child is the family and guarantees to respect the inalienable right and duty of parents to provide, according to their means, for the religious and moral, intellectual, physical and social education of their children.
Parents shall be free to provide this education in their homes or in private schools or in schools recognized or established by the State.
However, legislation underpinning compulsory attendance at school is in the school Attendance act of 1926, with minor amendments added. This act provides for the education and compulsory attendance at school of all children aged 6-15 years old. Simply stated, the constitution supersedes all acts and regulations regarding school attendance. However, the state reserves the right to check to ensure that this education is adequate with what they deem appropriate.
Constitution or not, one must bear in mind that the role of a home-educator can be at times a lonely role. Nobody to confer with, nobody to delegate to, nobody asking the simple question – "How are you getting on?". Society relegates and stigmatises, so much external negativity and ignorance to contend with. This is no doubt compounded by our socio-economic status. Luckily, there are some sources of inspiration and the following quote was one for me when I read it. "I want to see more people enjoy the blessing of empowering knowledge. If we all could learn and understand more, the world would definitely look better for all of us". [4] If only one could come into contact with more people of a similar disposition!
The first days of home-education were, upon reflection, the embryo of a process that ignited a passion for life-long learning. An innocent start, pencil and paper, individualized curricular subjects, write the answers into the book for correction schooling. We even had the wooden desk from the era of Charles Dickens. Today, we are vibrant, projects based, computer assisted learning.
We have discovered that through the medium of the project, many areas of interest can be encompassed and even discovered. The project also provides a vehicle for creative problem solving, dealing with the problems as they naturally occur. I personally have a dislike for fictitious problem solving, i.e. those problems that one can purchase on CD, books or obtain from the net. Finding real answers to their everyday real questions provides them with the fuel for their real needs. If the child is free to make choices and he is encouraged to pursue his own interests, he is able to bring his present knowledge to bear on the job in hand. We do not set deadlines for the completion of a project. The emphasis is deliberately on process as this is where the real learning lies. Quality cannot be pawned out to time.
Here is the algorithm for a typical project.
A project theme is selected.
Materials relevant to the selected theme are sourced.
The materials are placed on a large table. Books, printed web pages, objects, tools, markers, paints etc. Texts are not confined solely to children's material, we also use adult texts. We explore the material analyzing and selecting the knowledge required. Not all the information is used; it is the choice of the child.
Whilst exploring he keeps drafts in an A3 size book. A graphic representation of the knowledge he wishes to retain. (not mind maps)
As the project progresses individual branches fan out into many other areas of interest.
Objects and tools are used to demonstrate concepts, - using the hands.
A project is complete when we feel that enough knowledge on the topic for that particular moment has been acquired. Upon conclusion, the sum total of knowledge in the form of his drafts in the A3 book are weaved and threaded into one artful picture. This picture upon completion is signed, dated, put into a glass frame and hung on the wall for passive review. One of these works was, for a period, on public display at the European Commission Representation office in Dublin.
Time is also allocated for areas of interest that would not necessarily be covered by the project, or at least in enough detail. Examples of this would be computer programming, musicianship and languages. Expansion of the child's world is also enhanced by visits to museums, galleries, concerts, lectures etc. One such visitation that still nests strongly in their memory was to the University. Strolling through the cobble stoned courtyards; kicking and playing among the felled autumn leaves. Purchasing pencils with the University name emblazoned upon them. The bottom line is – expose, expose, and… expose. Through exposure the child will formulate ideas, anchor real interests. The parents role is then to provide the child with the materials, love and support whilst at the same time not interfering with his thought processes.
Schedule:
A daily schedule is essential to the survival and smooth running of the home-learning ethos. Whilst the learning and guidance are informal the activities must take place in a planned environment so arranged that the child is free to advance the learning along the path indicated by his own interests and learning-style.
We calculate all activities out of the child's full waking day, which we assume to be thirteen hours. For convenience, we sub-divide the activities within the waking day into four succinct groups: Meals, Lessons, Violin Practise and Play.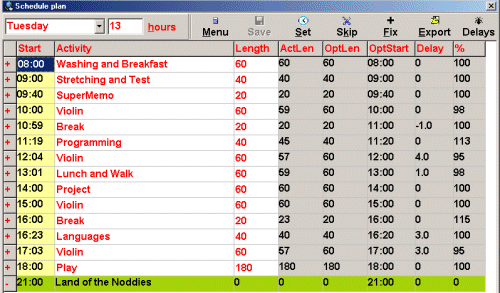 A sample schedule as with Tools : Plan in SuperMemo. An alarmed timer is set for each schedule. As there is a limit on the attention span, momentary breaks are encouraged in activities that require the full one-hour schedule.
The benefits for the child we have noted thus far are:
An appreciation of the value of time.
The child at the end of any particular week can see the progress in learning enhanced (productivity).
learning a skill for adulthood.
In search of quality educational software on the internet I had the very good fortune to discover SuperMemo in January 2000. My initial attitude after studying the basics was very positive. I sensed that SuperMemo could be very beneficial for the kids and myself. And this has proved to be so. Statistically, I should have quit after one-month [5] but I persevered. And I am glad that I did as I can honestly testify that SuperMemo is by far the best learning/remembering software that I have discovered to date. In my own and the kid's opinion it's usefulness is beyond doubt.
SuperMemo is now well established as part of the children's daily routine, more popular than brushing their teeth! We do not use SuperMemo for the isolated one or two subjects, all the learning is put in. For my son's musicianship material, we created a sound file of a metronome beat, set up a collection so that he can review clapping rhythms and singing solfa. We do all the authoring in a 'Master Collection', and as required transfer the branches into each individuals collection.
Simplicity in the formulation and presentation of the material has been the key to the exclamations; "I love to do my repetitions". It has taken me one year of persistent reformulating, using many different templates, to have found a formula that is sympathetic to their learning requirements.
My son takes an active interest in authoring his own material. His latest project, 'Rain', originates from an article imported from a CD-ROM encyclopedia. This has initiated a new approach for the future, incorporating facets of the project as described above. As with all authoring, the processing of articles is done in the 'Master Collection'.
The processing algorithm for the rain article was as follows.
Import the article.
Break the article down into sub-groups: 1, Introduction 2, Measuring rainfall 3, Rainfall distribution 4, What causes rain?
Process individual sub-groups, breaking down texts into paragraphs and from paragraphs into individual sentences. Highlighting individual words or phrases.
Create a tasklist of areas of interest to be further explored.
For active recall; question and answer pairs are created.
This is how it looks in the contents window: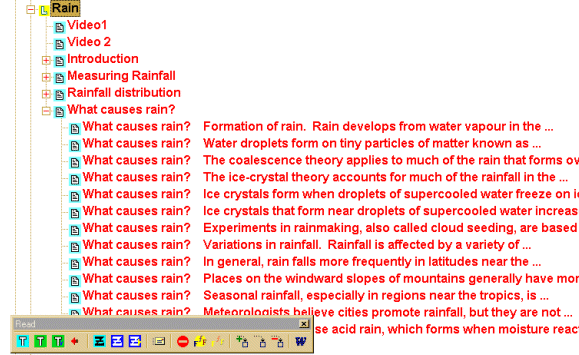 The article broke down into the four sub-groups. Two videos as an introduction to the learning. Also in the picture is the undocked Read toolbar.
A reading topic from the collection:
The thumbnail image is the category Logo, in this instance - Reading. The text's subject matter and source are also (always) included. The subject being 'Rain' and the 'IBM World Book' being the source.
An item from the collection - a question and answer pair: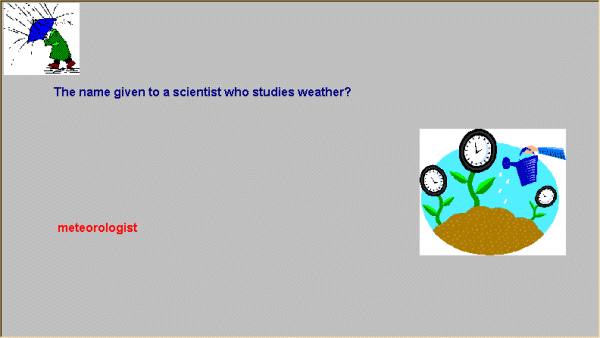 The thumbnail image in the top left of the element is the subject Logo and the second image is for pleasantry.
The Tasklist at the time of writing: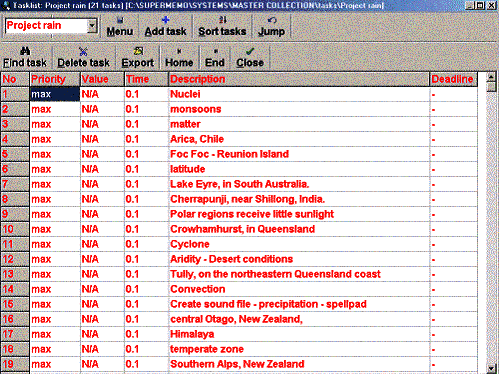 No value or priority has yet been assigned to any task, this will be done when the list is complete. A second article 'Acid Rain' is currently being processed. Tasks of interest from this article will be added, to conclude the tasklist.
Multiple choice tests, point and click tests, spellpad, etc. all add to the pleasure children extract from their repetitions. These are self-grading and not too difficult or time consuming to set up. A lot of educational software possess these facilities but there is no mechanism within for a programmed course of revision. My experience has been that after a period of time these CD's are consigned to dust gathering. Whereas, place the material in a repetition cycle, (SuperMemo) and they love it.
Recently I observed the children using French and Spanish vocabulary in their play. Their only course to this material was SuperMemo. Interestingly, they foresee a role for SuperMemo or its equivalent in their adult learning lives. The SuperMemo philosophy has been established.
---
References